Meanwhile, Ganesh, tired of making critically acclaimed films which flop, decides to make a commercial film, Govind is shattered. He calls Ganesh Sen and pleads with him not to make the film. The director shirks him off. So, Govind decides to keep Ganesh's image alive...by killing him.

Govind Aur Ganesh directed by Indranil Goswami is a winner all the way thanks to its slick narration and competent direction.

Love's labour lost & found

For those who haven't seen it, Rishtey the series on Zee pops up a good one occasionally. Shanno on January 30 at 2 p.m. is one such sensitive episode.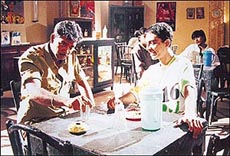 This is a unique love story of Babu, a taxi driver and Shanno a street hooker. The two strike a business deal — for a liberal sum of money every night Babu would drop Shanno to an appointed palce where she meets her nocturnal clients.
Over the weeks their friendship grows and whenever the two have some spare time they spend it in a country bar. Babu doesn't have the courage to confess his love for her and drowns himself in drinks. She too loves him but can't make the first move.
Shanno starts feeling rejected and one day vanishes from his life. A shattered Babu loses all interest in life. Till the day she returns.... bruised physically and spiritually. And from here the story takes an unexpected turn....A sensitive twist-in-the-tail episode which would keep you glued to your TV.
Rising star
She's burnt her fingers in Bollywood and feels that the small screen is the best thing to have ever happened to her. The fact that she has just one serial going doesn't bother Kanchan much. "Many offers are coming my way now," she says confidentally.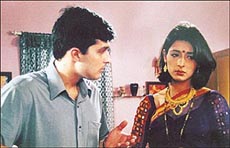 And why not? With her role in otherwise listless Basera on Zee TV already a talking point among viewers, Kanchan knows there's nothing stopping her now.
"Most of my time is spent in accepting or rejecting roles," says Kanchan and adds, that she rejects most offers which are close to her roles in Basera or Baat Ban Jaye.
Though Baat Ban Jaye wasn't such a happy experience. She replaced Rakhi Tandon to bring a whiff of fresh air in the sitcom. The move backfired and after 10 episodes she was out. "It's never a good idea to replace someone, "she says speaking from hindsight.
But Kanchan doesn't have to worry on that count any more. she is now spoilt for choice. After all, not everyone can single-handedly carry a serial like Basera on one's shoulders.
Jaana hai Bollywood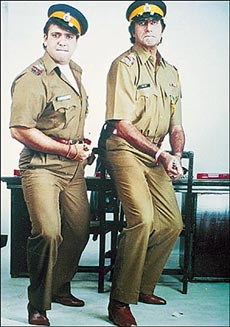 In a bid to keep up with the times Sony Entertainment Television is on a massive diversification drive. Apart from its regular family fare, the network is planning many more channels which would be both entertaining and educative.
For starters there would be an event-based channel which would air movies, live shows and other events connected with the entertainment world.
The decision comes fast on the heels of reports that Star Plus is planning an exclusive Hindi movies channel. With Zee already going strong with its movie channel, the race is on in right earnest.
Apart from the top three going filmi, there are rumours that Sahara TV starting in the next couple of months too has films on its mind. So get set for a plethora of Bollywood masala on the small screen in all its shades — good, bad and ugly.
On top of the world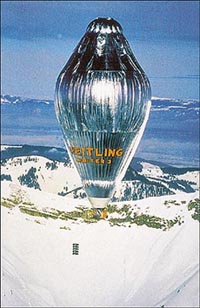 On March 21, 1999 pilots Bertrand Piccard and Brian Jones stepped from their pressurized capsule into the bright Egyptian sunshine, after 21 days and 26,000 miles they had not thought possible — a non stop flight round the world by balloon.
Touching space, a one-hour documentary special on the National Geographic Channel on February 5 at 6.30 p.m. tells the behind-the-scenes story of the old style adventurers who flew into the history books.
Using exclusive on-board footage the docu-drama catalogues every heart stopping moment of man's first successful circum-navigation of the globe by balloon. A must-see for adventure lovers.
— Mukesh Khosla