Tuesday, February 1, 2000,
Chandigarh, India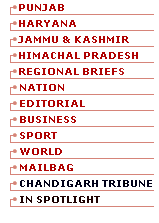 M A I N N E W S
4 discharged in hawala case
NEW DELHI, Jan 31 (UNI) — A special court today discharged former Neyveli Lignite Corporation (NLC) Chairman M.P. Narayanan and three other former NLC officials in the Rs 64 crore Jain hawala case, stating that there was no substantial evidence against them.
With this, all 35 hawala-related cases filed by the CBI against 56 accused, including 24 politicians, have been disposed of. All politicians, including Home Minister L.K. Advani and Finance Minister Yashwant Sinha, have been discharged.
The other three former NLC officials discharged today by Special Judge V.B. Gupta are former Executive Director N. Venkateswar, former Deputy General Manager P.R. Desikachari and former Chief Engineer S. Ranganathan.
The former NLC officials had been charged with favouring a company, Syndicate Engineering Corporation owned by Jain brothers, to secure a Rs 10.5 crore contract for installation of a water piping station at Neyveli, Tamil Nadu.