So switch on to Sony every Sunday for this one-stop-show. A paisa vasool for the whole family.

Third time lucky?

Strictly from a career point of view the journey from Saans to Pal-chhin has been very rewarding for Neena Gupta. The serials brought fame and megabucks. And despite the fact that Saans seems to be dragging along now, its TRP hasn't dropped.

Heartened by their unqualified success, Neena Gupta has launched yet another serial — Siski. And again this one is on emotional and tear-jerking relationships — which by now is her speciality.

The serial focuses on two close friends who get married to girls who come from completely different backgrounds and how they impact their lives and friendship.

"I have been working on the project for the past few months and hope to make this into one of my best serials," says Neena who is directing the serial and obviously playing the lead role in it as in Saans and Pal-chhin.

So, does that mean a final goodbye to films? Yes, she says, categorically". After the age of 30 actresses don't get any worthwhile offers in Bollywood". And, for her, that's when television has come in very handy.

Pin-up-guy

He's being touted as the newest honcho who can flex a muscle or two even as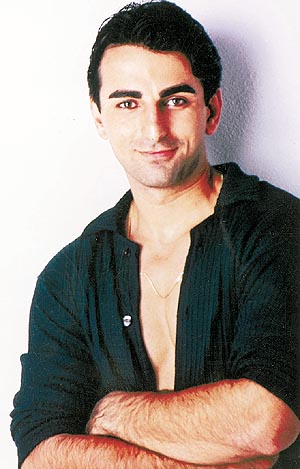 he shoots from the mouth. A true pin-up material, Mathew Kordolla is the hottest new veejay on the Channel V music parade.
An Armenian by descent, Mathew has always dreamed of setting up a multi-storeyed gym. "When Channel V kicks me out I'II do just that. I'll have the biggest gym going in India," he says.
Schooled in Panchgani and Pune, Mathew came to Mumbai with stars in his eyes. He flopped in his attempt as a model. But veejaying was a different ball game. He was a natural from the word go.
"Modelling was like putting your hands where they didn't belong," recalls the veejay of Tea With V and V On Campus.
Of course now he's got his hands in the right places. Reports suggest that he is lending a helping to gorgeous Laila Rouass in the gym to develop a perfect 10 figure!
Songs of success
Here the name of the game is money. Flush with the runaway success of middle class Amanat, Zee is now trying to rake in the moolah in every conceivable way.
First it was rumoured that ad rates for the serial had been virtually doubled. Now comes the release of serial's songs in a neatly packaged album by Zee Music.
Songs? Where are the songs in Amanat? There are, or rather there were. Remember those sung during Santosh and Dinky's marriage. Don't remember? Now you can refresh your memory and regale yourself with those Shaadi ke gaane which never became famous.
But that's hardly bothering the channel. There are thousands of viewers who hang on to every word of the serial. And they are the ones who Zee Music bosses hope will bring the jingle of money to their ears.
— Mukesh Khosla