Quick takes
Gurdas Maan
This Badshah of bhangra was given an award by Canadian Indians recently which pronounced him the most outstanding Punjabi star of the millennium. He is a singer, lyricist, composer, choreographer and film-maker, all rolled into one.
Hailing from Gidderbaha village, Gurdas Maan is the original ambassador of Punjabi pop music who revived Punjabi folk tunes. Having spent his childhood singing Sufiana kalaam, he switched to pop and was an instant hit with the public. Excerpts from an interview:
Why did you decide to switch over to pop?
Moving to pop from traditional folk songs does not mean that I'll stick to pop numbers alone. It means that I'll lend western beats to my songs. After all, music is a reflection of the prevailing lifestyle and trends.
Are you satisfied with what you have achieved so far? What are your future plans?
I have spent many years in this profession and my experience with various music companies has been good. The music companies helped to bring out the best in me. There are more exciting things to look forward to in life. Your future is carved by your present. So I look forward to a great future. I have 28 albums with a record sale of 30 lakh cassettes. In addition to the albums, I have done some playback singing in films and have also made the award-winning film Shaheed-e-Mohabbat.
With a galaxy of Punjabi pop stars on the horizon, how do you hold your own?
For me the lyrics of a song are important. There should be no vulgarity. To an artiste, each work is important. You may put in your best in everything you do but there is always scope for improvement. Your best does not come so easily.
Bhupinder Chawla 'Bhupi'
Bhupi, another protege of Jawahar Wattal, is a Delhi-based Punjabi singer whose debut album Jogia Khalli Balli sold over 3 lakh copies in India. He is coming up with another high powered album very soon. A well-groomed Sikh, Bhupi impresses as someone you have known for years. He is among the best-known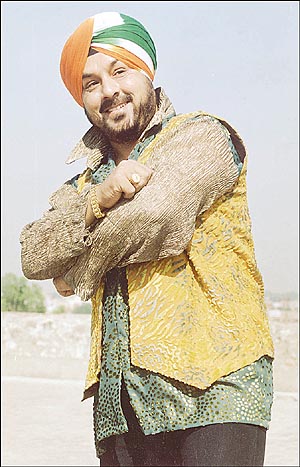 Punjabi pop singers, and touches the roots of Punjabi folk making it more vibrant to suit the requirements of the younger generation.
Jogia Khalli Balli is your largest selling album. What do you think makes an album a success?
I feel a super-duper song should be decent and simple. It should have a 'hook line'. The problem with the new breed of singers is that even a little success goes to their heads.
What goes into the making of a successful singer?
The main things that make an artiste a hit in the market are his voice, his training, and, of course, his perseverance.
You are often compared to Daler Mehndi. What do you say to that?
I have a typical Punjabi voice with a rustic touch. People can draw their own conclusions.
Who is your target audience?
Anyone and everyone who loves good music!
Hans Raj Hans
Hans Raj Hans, the tall bearded singer, was born in Shafipur village near Jalandhar. His name has become synonymous with Punjabi folk, pop music and Sufiana kalaam.
With 16 albums already to his credit and with a record sale of more than six lakh copies of Jhanjhar alone , Hans is keen not to be typecast. He wants to continue singing folk numbers, Sufiana kalaam and also pop.
Will it be possible for you to retain your Sufiana identity?
I will definitely retain my Sufiana identity. I have established myself as a singer of Sufiana kalaam. My style is anchored in the Sufiana tradition. Whenever there have been offers from films, I have sung decent lyrics.
The release of Tips' Kachche Dhaage seems to have given you a foothold in films. How do you feel?
Tips gave me a chance to sing for Kachche Dhaage and I got an opportunity to work under the famous music director, the late Nusrat Fateh Ali Khan. I am also singing in Guddu Dhanoa's forthcoming film Bichchoo.
Daler Mehndi
Daler Mehndi, a protege of music director Jawahar Wattal who creates stars, has indefatigable stamina. Daler ventured into the world of bhangra pop in 1990 at the age of 23. Now even after a decade, Daler continues to mesmerise Punjabis all over the world with his electrifying stage presence. His four albums have sold over 1 crore units and are still in demand.
With three multiplatinum-selling albums to his credit, the king of bhangra pop confesses that never in the wildest of his dreams had he imagined that he would become the Pasha of pop.
What do you have to say about the large number of singers jumping onto the pop bandwagon?
It is wonderful. The younger generation of singers is getting an opportunity to try different things. Their survival in the highly competitive world of music will depend on their talent, opportunities, hard work and, above all, luck. In the end, it will be the survival of the fittest.
Comment on your style of music
In terms of my style of music, I have moved miles ahead of my previous albums. I signed my fourth album with Magnasound for a record sum of Rs 2.5 crore. I always mix the earthy goodness of bhangra with a dash of rap and reggae, blending the sophistication of classical music with the raw energy of dance. My power-packed stage performances are a rage.
Malkit Singh
The London-based singer, Malkit Singh, who took the world by storm with 'Tootak tootak tootiyan...' ,is a short and trim Sikh who looks like the boy next door.
Already an international star, his music is heard wherever there is Indian population. His album Sajna O Sajna has sold over seven million copies and he has come up with a series of hits such as Shahad di Makhi and Bhangra Paon Nu Ji Karda.
What has made Punjabi pop spread like wild fire?
Punjabi pop has always been around, but it is only now that it has got a lot of exposure through TV channels.
Is there a woman behind your success?
Yes, the woman who has supported me all along is my wife.
What is the response to your music abroad?
The biggest problem I've faced is to attract the audience of mainstream western-pop. Now things are changing and people are becoming appreciative of Punjabi pop in India as well as abroad. My hit numbers include Jugni and Gur Nalo Ishq Mitha. My next venture is with Virgin Records.
Sukhbir
They say nothing succeeds like success. And that is what one can say about Punjabi munda Sukhbir who has three albums of bhangra pop to his credit. This Dubai-based NRI singer has stormed the world with his high voltage stage performances. A regular performer in the USA, Canada, England and Dubai, Sukhbir acknowledges that Punjabi pop has a good market at present, especially in India, the West Asian countries and the Far East.
Please describe your albums?
My three albums sold over seven lakh units in India. You can dance with them, you can cry with them and you can fall in love with them
What is your next step?
To be the biggest pop star! To be known for my singing talent, to be loved and adored by the masses who matter the most to me.
What message would you like to give to your fans?
Keep living, loving and laughing. Life is too short to hate.
— Interviewed by Dharam Pal