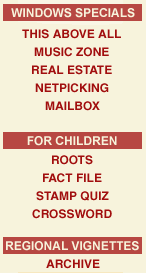 Lots in a name The year-I
EPONYM comes from the Greek eponumos, meaning named on. When the name Ford is applied to a car or, a person with great physical strength is called a Samson, both cases are instances of eponymy. With some words eponymy remains an act of mere transfer, as with sandwich; named after the Earl of Sandwich who was too busy at the gambling table and asked for slices of roast beef nestled in bread as a meal, thus giving the world a sandwich forever! Sometimes the creation of an eponym is more complex, as when Shakespeare's Shylock became a word to be used for every avaricious person who came along! An eponym can be a simple possessive; Parkinson's Law after the twentieth century British economist C. Northcote Parkinson or Pascal's Law after the scientist of the same name. Ampere, Farad, Joule, Ohm, Volt, Watt, Fahrenheit and Coulomb all came into the language in the same manner.
Eponyms like Atlas entered the language after a single usage by an individual. The sixteenth-century cartographer Gerardus Mercator used a picture of the mythological Atlas on the cover of his collection of maps and created the word atlas as the term for a book of maps. But all eponyms did not go through such a simple birth. Often an eponym is derived from a name, instead of the name being used as it is. In Iliad, Homer mentions the story of Stentor who was a Grecian herald with a voice as loud as that of 50 men put together. When we say today that a person has a stentorian voice, the meaning is clear. The word bowdlerize means to expurgate a book by omitting parts considered offensive. The English editor and publisher who published The Family Shakespeare after expurgating it gave us this word. His name? Dr Thomas Bowdler.