There could be many reasons for this reluctance. Despite enormous personal popularity, films are not 'respectable' in our society. We admire our Shah Rukh Khans, Aamir Khans or Juhi Chawlas, but do not take them seriously, particularly as subjects for serious books.

This glaring defect was partly remedied during the last few weeks in Mumbai. Former journalist, Mohan Deep, who had brought out books on Madhubala and Meena Kumari came out with Eurekha, a biography of film star Rekha. Senior film journalist and editor of 'g', a film magazine, Bhawana Somayya released two books, one a biography of Amitabh Bachchan and the other, Salaam Bollywood, a collection of her thoughts and feelings on the Hindi film industry over the years.

Deep called Eurekha the "intimate life story of Rekha". Yes, it is full of intimate details of her personal life, from the time she was pushed into the Hindi film industry at the age of 13. The book abounds in expressions like, 'garam, garam cheez', 'bindaas' and tries to peep into the bedroom secrets of the actress. There is hardly any assessment of Rekha, the actresses.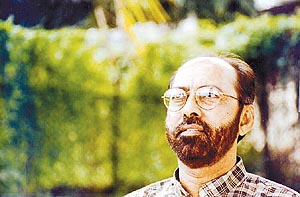 The media reception to Deep's book was hostile. Critics blasted it, "The book deserved to be condemned, banned and burnt" screamed a review in the Afternoon Despatch & Courier. The review went on, "It is an arrogant, crude example of how a woman, who happens to be a film star, can be victimised and exploited even while she lives". The reviewer, a woman, wondered why Mohan Deep had been targeting only women in his books. "Would he dare do a biography on similar lines of Dilip Kumar or Amitabh Bachchan?" Mumbai's Mid-Day faulted the book for failing to unravel the enigma, that is Rekha.
But Mohan Deep was unfazed. "There seems to be some kind of prejudice about books of this kind," he exploded. "After the publication of Madhubala and Meenakumari, I was blamed for raking up the past of people who were dead. With Eurekha, it is the other way around. How dare Deep write such a book about a living person, I am asked!".
In fact, there is some kind of a prejudice over film books, particularly if they are outspoken on personal details. Mohan Deep's career as a muckraking crime reporter was held against him and his standing in the profession was questioned. "Oh, you know Mohan Deep and what he can produce", was a comment often heard, even among fellow journalists.
Shobha De can write soft-porn novels and get away with it. She had the right connections who assembled in respect-able book shops to read chapters from her books. Poor Mohan Deep had to put up with snide comments on his style of writing, choice of subjects and approach to the art of biography. Yet many of the charges levelled against him were baseless. Eurekha had its quota of tasteless passages, but I would not call it prejudiced against the star. Mohan Deep details the environment Rekha was brought up and the role it played in her life and career. There is sympathy for her following the suicide of her husband, Mukesh Aggarwal. Mohan Deep argued it was futile to blame Rekha for this tragedy, the fault was mostly Aggarwal's.
The biography had its supporters too. Director Mahesh Bhatt said that such books were needed and found nothing wrong in the author's approach to his task. If people wanted to know about the personal lives of the popular stars, why should they be denied? Rajiv K Bajaj, former editor of The Daily and now the Chief Executive of In Television, in fact, blamed Mohan Deep for not coming out with more salacious details on Rekha's life. "I know the explosive stuff Mohan had with him," said Bajaj. "And I don't know why he didn't use it all."
Compared to the 'hot' reception accorded to Eurekha Bhawana Somayya's Amitabh got a slightly different reception. For several years, Bhawana and her magazine 'g' had kept away from malicious gossip. Editors of other film magazines were not amused. They called her 'prissy' and 'Chamchi', but Bhawana did not care.
Her Amitabh Bachchan, again was not an 'authorised' biography. The book was endorsed by him and the star was allowed to read the pages before publications. "Parts of the book was in question and answer form and I wanted to be as accurate as possible. That was why he read the manuscript before publication. Amitabh made no corrections, nor did he make any suggestions," explained Somayya.
For the author, Amitabh Bachchan was the 'star of the millennium'. She found him 'refined and remarkable'. The book did have information on Rekha with whom Bachchan reportedly had a longstanding affair. "I am not interested in that aspect at all," explained Somayya. "Rekha was among the five heroines in my book who gave their frank opinions on the super star."
Bhawana Somayya had the guts to stand alone among Mumbai's film journalists and steer clear of malicious gossip. The attitude was reflected in both of her books. I found portions of Salaam Bollywood moving, particularly the sections on Sarika, the romance between Rishi Kapoor and Neetu Singh, the whims of Rajesh Khanna, the tragedy of Smita Patil. Mind you, the book contains a lot of intimate details about Bollywood stars, yet treats them with sympathy and as fellow human beings. It was interesting to read how female stars were repelled by rape scenes, yet had to go through them.
The 'g' editor reserved some of her fire for mainstream journalists, "Why should they look down on us?" she snapped. "The film sections in most of the news magazines are full of gossip. Do they ever deal with serious cinema? And when a major scandal breaks out in the film world, they come running to us for background information. If they held us in such contempt, why then come to us?"
Two authors, three books. They created a lot of buzz in the media. Both Deep and Bhawana Somayya are planning more books in the future. I hope they produce better books which do justice to the dynamism and uniqueness of Bollywood.