This difference in ideology forms the backdrop of the fast-paced Yug set amidst the fading pre-Independence values and the lust, greed and corruption which engulfed India after freedom.

Written by Kamleshwar, the star cast of Yug includes every conceivable top star of the small screen — Dara Singh, Mukesh Khanna, Shahbaaz Khan and Deepak Parashar to Hema Malini, Neena Gupta, Ashwini Bhave, Priya Tendulkar, Shikha Swaroop and more.

All of which adds to the appeal of the 260-episode serial on DD-1 at 3.30 p.m. from Monday to Friday.

Purab goes paschim and dakshin

He started life training as a pilot. But what he does today has nothing to do with flying. In fact he's walking most of the time.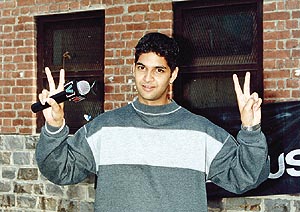 Meet Purab, Channel V's new VJ (remember him in Zee's Hip Hip Hurray?) As host of Gone India his job may be back-breaking but it's adventurous all the same.
Week after week Purab hits the road with his knapsack slung on his back and takes viewers on a budget holiday. The concept behind Gone India is to show people that they can go place on a Rs 100 per day budget.
"It's fun. I've done Mumbai to Kanyakumari in less than Rs 500," says Purab. And when the 20-year-old is not travelling he invites viewers for Tea With Me, a studio show with other VJs where they just chatter away with guests dropping in.
"Veejaying is not just party all the time. It's a lot of hard work. Though the money I make is quite mind-boggling." Surely, no one can get tired making money!
Hitting the hot spots
Mist. The sky. And the sea. Stark forms lie lifeless on the shore. Suddenly, there are strains of soulful music. And three stunning divas rise from the silvery beach.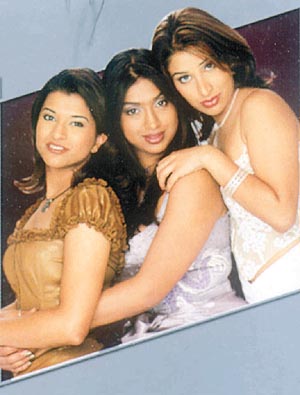 They call themselves Sansara. An all girl band whose album Yeh Dil Sun Raha Hai is burning up the charts. The title video is here, there and everywhere. Played over and again, channel after channel everyday.
The single is a cry from the heart. A journey through the world of infinite emotions. Feel the three water nymphs tug at your emotions, your soul and take your senses away.
Sansara's Sophia has written most of the haunting lyrics herself. And then, there's Biddu, the composer. All of which makes Sansara and their debut album Yeh Dil Sun Raha Hai a delight for the visual and audio senses. One hopes this all girl band stays on unlike Models which disintegrated after a couple of hits.
Hollywood's macho men
It's action time at AXN. The channel brings raw muscle and true grit to the small screen with 20 half-hour episodes of Action Heroes, featuring some of Hollywood's biggest action superstars.
Kickstarting the series is the seven-time Mr Olympia winner, Arnold Schwarzenegger and his friends Sylvester Stallone, Burce Willis and Hong Kong mega-star Jackie Chan.
Action Heroes also features movie greats like Nicholas Cage, Sean Connery, Andy Garcia, Mel Gibson, Brad Pitt, Eddie Murphy, Steven Segal, John Travolta, Kevin Costner and Tom Cruise.
At 8.30 p.m. from Monday to Friday each episode brings viewers closer to their favourite stars. Select clips featuring the stars are set to thrill fans, taking them on an exciting journey through their lives both on and off the screen.
Curing animals
It is hard to resist the big, brown eyes of a puppy. But what does one do when a pet gets into trouble and is in need of help? Animal Planet provides the answer with the popular, award-winning series Emergency Vets from Monday to Friday.
Going behind-the-scenes at a bustling animal hospital in America, the channel brings viewers the real-life drama of treating animals.
The dedicated staff at 'Alameda East Veterinary Hospital' in Denver is available for a variety of ailments affecting animals. From common maladies to complex surgeries, Emergency Vets allows viewers to join doctors to witness every step of their work.
From the people who arrive expecting the worst, yet leaving with a healthy patient, to those who face heart-wrenching decisions, the show offers an intimate portrait of what one vet describes as the "roller coaster" aspect of life — and death. Viewers can become a part of the drama this March on Animal Planet.
— Mukesh Khosla