Wednesday, March 1, 2000,
Chandigarh, India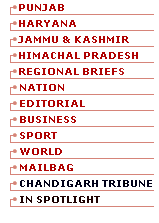 M A I N N E W S
Former cricket captain declares 16 cr under VDIS
NEW DELHI, Feb 29 (UNI) — A former Indian cricket captain disclosed details of Rs 16 crore through the voluntary disclosure of income scheme in Bhopal, according to Income Tax Commissioner Vishwa Bandhu Gupta.
In a recent interview to Zee News, Mr Gupta said more than one cricketer had made disclosures under the scheme and so he was writing a letter to the Board of Control for Cricket in India (BCCI) asking them to inquire into how the players managed to amass such huge sums. When asked, he said the money could be linked to match fixing.
Participating in a half-hour discussion on the hawala scandal in the primetime programme, Mr Gupta said while information received under the VDIS scheme was confidential, he could furnish the information to government if there was reason to believe that the money earned was through illegal means.
In another interview later in the week, former cricketer Manoj Prabhakar said the disclosure came as no surprise to him as he had been raising this issue for quite some time and had suffered for speaking out.