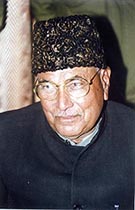 The celebration is over
Now it's time to deliver, Mr CM
By Yoginder Gupta
HARYANA CHIEF MINISTER Om Prakash Chautala's gamble has paid off! By going to the electorate 18 months ahead of the statutory requirement, Chautala took a calculated risk. Aware of the mercurial temperament of the Haryana electorate, Chautala knew that even the best of performances could not make a favourable verdict a certainty for him in 2001.