Born on May 24, 1968, in Jodhpur, Major Sudhir studied uptil Class V in the government school in the village itself. It was after being selected in the Sainik School at Sujanpur Tira in Hamirpur district, that he could see his dreams coming true. After passing out from the NDA in 1987, he was commissioned on June 11, 1988. Initially, he joined the 4 Jat Regiment. But later shifted to the elite 9 Para Commandos.

His stint in Sri Lanka — as part of the Indian Peace Keeping Force (IPKF) — saw him emerge as an expert in guerrilla warfare. There was no looking back after this as he was decorated with service medals one after the other. The endless list of decorations includes the Videsh Seva Medal and Special Services Medal in 1990, Siachen Glacier Medal, High Altitude Medal and Sainya Medal for Jammu and Kashmir in 1992.

He got the Sena Medal and Bar Two Medal in 1994 and Clasp Suraksha to Special Service Medal and Wound Medal in 1996.

Major Sudhir was selected for the International Officers Advance Course in the USA. In that he qualified as an instructor with honours, after having done the course in protective services of VIP security and combat terrorism on military installations.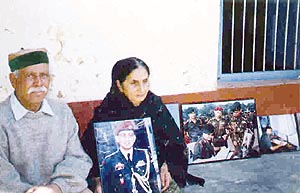 Having added another feather to his cap, he was posted as the ADC to Army Chief,Gen V.P. Malik, from December 1997 to June 1999. His desire to be in the thick of warfare saw him becoming part of Operation Vijay, in Kargil. After it was over, Major Sudhir went back to counter-insurgency operations, his field of expertise, in Jammu and Kashmir.
He was entrusted with important tasks, which included being sent on special secret missions to Pakistan. "It was not without reason that bhai was chosen for these difficult jobs. He had a flair for languages, he had mastered Persian and Sindhi. He was also an expert in the use of explosives and could easily decode the wireless messages of the militants," disclosed Arun, younger brother of Major Sudhir.
The 31-year-old officer was killed in the dense forests of Haphruda in Kupwara, but only after gunning down a few militants. As he led a squad of five men in the area, he heard disembodied voices, but was unable to spot them. He along with his buddy crawled uphill and on reaching the knoll saw two armed militants, barely four metres away. He immediately killed the nearest sentry and charged towards the second, who jumped back into a large covered hideout in a depression, 15 metres below.
Without any hesitation, Major Sudhir charged at the hideout with only his buddy giving him covering fire.Taken aback, the militants, 20 in number, rushed out in an attempt to flee. Major Sudhir singlehandedly grappled with them and firing from a distance of two metres, killed four militants. In this action, he was hit on the face, chest and arm and fell down, bleeding profusely at the entrance of the hideout.
Although, unable to move, he called up his troop commanders on the radio set, not to allow the militants to flee. It was only after 35 minutes, when fire stopped that he allowed his evacuation. Bleeding profusely, he continued to pass instructions to his troops on his radio set. He passed away holding his set, in the hand.
While no amount of help can compensate for the loss of Subedar Rulia Ram's son, the state government has not bothered to consider the bereaved father's request for a job for his other son and daughter. "Since there is not even a single earning member from my family," rues Sub Rulia Ram, "I had personally requested the Chief Minister, P.K. Dhumal, to give a government job to my son or daughter, when he had come to our house, immediately after Sudhir's death."
Major Sudhir's younger brother, Arun (28), had met with a serious car accident in 1992 and is unemployed. His younger sister, Asha, a student of BA-II, in Government College, Palampur, too, is willing to do a job, provided there is some help from the government.
Even five months after Major Sudhir sacrificed his life for the nation, not a single person from the state government has payed his family a visit, let alone offer help.
It is a matter of great regret that the martyr who is being revered by the entire nation, is a forgotten man in his home state.