Anchor Aly Khan also asks viewers to cook along with the family. The viewer who makes the meal in the stipulated 20 minutes and telephones, will have the anchor dropping in to sample the fare. Which all makes Star Sunday Lunch a meal to remember.

The endless story

It's back to megaserials on DD. Even as private channels cut and prune shows short-and-sweet, the national network is rolling out marathons like Yug at 3.30 p.m., Monday through Friday.

In this 260-episode pre-Independence serial, Hema Malini plays Nirmala who along with sister Rukmani (Ashwini Bhave) nourishes a dream of free India. She follows Gandhiji's ideals while Rukmani's role model is Subhash Chandra Bose.

This difference in ideology forms the backdrop of Yug set amidst the fading pre-Independence values and the lust, greed and corruption which engulfed India after Freedom.

Written by Kamleshwar, the star cast includes every conceivable top star of the small screen — Dara Singh, Mukesh Khanna, Shahbaaz Khan, Mangal Dhillon and Deepak Parasher to Hema Malini, Neena Gupta, Ashwini Bhave, Priya Tendulkar, Shikha Swaroop and Amita Nangia.

A word of caution. Watch it only if your afternoons are free for the next one year!

A wife in distress

Big problems can be solved. But when small ones magnify, they blind logic. That is what Star Bestseller C.Z.H.E.K is all about. How seemingly innocuous things can trigger off chain reactions.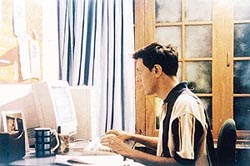 The story revolves around housewife, Natasha Verma, who scores a mere four points out of 40 in quiz titled Does Your Husband Love You? in a leading women's magazine. This upsets her. In her twisted way of thinking she deduces that her husband doesn't love her and that he is seeing another woman. Could the woman be Maria, his secretary? Will a baby bring them closer? Or should she just divorce him? The baffled husband finds her sad and sulking and can't fathom why.
Starring Rajeshwari Sachdev as Natasha Verma and Ranjit Kapur as the husband, C.Z.H.E.K at 9.30 p.m. on March 15 on Star Plus plays on the fickleness of love and how small things can almost spell doom to a perfectly happy marriage. Thoroughly entertaining.
The swamp thing
A muddy grave for a fleeing villain, a terrifying trap for a witless ingenue, a swampy home for a mutant monster: Quicksand is the shopworn stuff of B-movies. Hollywood tells us it is impossible to detect, a bottomless pit that grabs holds and sucks you under,impossible to escape and usually located in foggy, treacherous swamps.
And the reality nearly lives up to the hype (no, you don't sink in it, but you can be trapped in it, unable to move), and this deadly natural phenomenon is more common than most of us believe.
Bewitching comedy
Here's one from the heart of Star World. A far out, half-hour comedy about Sabrina, a normal teenager whose life gets turned upside down when she moves to Riverdale.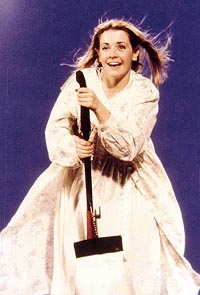 Along with a new school, new friends and new rivals, she has to make a very strange adjustment on her 16th birthday — inheriting magical powers and learning she's from a family of witches.
And then start a series of adventures which have her grappling with her incredible powers for good and a bit of mischief.
Adding spice to her life are an everyday magician and schoolmate, Harvey, whom she loves.The young lady becomes, very appropriately, the magician's assistant who falls in love with her instantly.
And that forms the basis of this Sabrina, The Teenage Witch every Wednesday at 5.30 p.m. on Star World. A rip-roaring comedy which will have you glued to your sets from the word go.
And now quicksand
Quicksand on the National Geographic Channel at 7.30 p.m. on March 11 meets people who have come face to face with this strange and very real force of nature.
People who have witnessed their loved ones perish in its grasp, scientists who study how to avoid quicksand calamities: and a few lucky survivors. Although quicksand isn't a mass destroyer like volcanoes earthquakes and tidal waves, it is a magnet of death. So uncover the truth behind this mass which is still a mystery to science.
— Mukesh Khosla