Some of the later works done in the fourth and fifth century show a shift to brighter natural colours resulting in beautifully decorated pages of the Kouranic verses.

Apart from the Kouranic paintings, some of the general calligraphy works shown at the exhibition of the same period are in bold colours. Experts believe that this was the beginning of the second phase of calligraphy.

One of the star exhibits in Delhi was the original manuscript of Hazrat Ali which is an ancient copy of the Koran from the Sura-Nahal in Kufic script inscribed on deer skin. Even pages from the Hafzi (Holy Koran written in Naskh Jali script of 13th century) was also a part of the exhibition.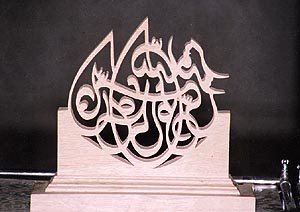 Some of the most precious exhibits were kept inside iron-barred glass boxes. In fact, security inside the exhibition hall was so tight that none was allowed to go very near to the exhibits.''They are international treasures and we had to fly them to India on a special aircraft. We just cannot take any chances,'' says the spokesman of the Iranian Cultural House.
Among the priceless treasures exhibited were some seventh and eighth century stone epigraphy on which important verses of the Koran are inscribed. These artefacts were collected from across the globe and neatly preserved at the Reza Abbasi Museum.
The few works of local Indian artists which were on sale were moderately priced and the money collected was donated to the Delhi based Ghalib Academy which promotes the art of calligraphy in the country.
In fact such was the response that at the end of the exhibition all the calligraphed works were sold out and there was demand for more. Visitors to the exhibition marvelled at the ceramic and glazed tiles which have been used in the interior decoration of the holy monuments and mosques. A spokesman of Iraman Cultural House said:
''We were not sure how many people to expect initially but we decided to go ahead with the exhibition as it also coincided with the Holy month of Ramadan. We have received overwhelming response and now we plan to take the exhibition to other important cities of India."
"Such an exposure has greatly helped in the recognition of artists who are doing this Holy work," says Wasim Ahmed, whose works were sold out within hours at the exhibition to which thousands of devout Muslims thronged.