Thursday, March 16, 2000,
Chandigarh, India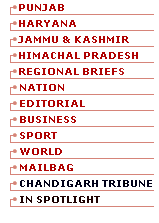 M A I N N E W S
2 ACPs shifted, lawyers to continue stir
NEW DELHI, March 15 (UNI) — The Delhi Government today transferred Assistant Commissioners of Police (ACPs) T.S. Bhalla and Vijay Malik besides suspending three other officials responsible for the February 24 crackdown on lawyers which triggered the three-week-old strike.
However, the lawyers said the agitation would continue as no action has been taken against Deputy Commissioner of Police Pranab Nanda. "In any case, our demand is that all three should be suspended immediately, and not merely transferred, till a judicial inquiry comes up with its findings,'' said Mr Anoop Bagai, Secretary of the Delhi High Court Bar Association (DHCBA).
Mr Rajiv Khosla, Secretary of the Delhi Bar Association, said the coordination committee of various bar councils had decided to hold a massive demonstration on March 22 in which one lakh lawyers from across the country would participate.