The wireless era has just begun, yet it is clear it will continue to shake up not just communications but the way the world lives.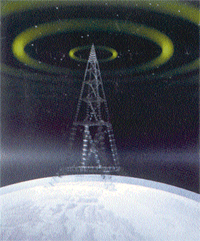 THE arrival of cellular mobile in the last two decades has sparked a communications revolution. No longer are humans confined to their homes or offices. Wireless by its nature means mobility and flexibility, and the cutting of the phone card has unleashed waves of human energy and creativity. And as we look ahead, we see that exponential advances in chips, software and radio technology will continue unabated.
The revolution is not confined to cellular voice. Broadband wireless and fixed and mobile satellites are all going to be front and centre of the way we communicate. That includes those two-thirds of the human race who don't have access to a telephone . Low-cost, scaleable wireless solutions will bring the world to the door of the "unwired".
Wireless technologies will also enable the connection of smart digital devices into a seamless global net. It will be impossible to discern the boundary between the real and the virtual worlds.
The wireless era has just begun, yet it is clear it will continue to shake up not just communications, but the way the world lives. In this article an attempt has been made for the unfolding of the next 1,000 wireless years.
Even the most determined skeptics readily accept that connectivity will be ubiquitous within the next decade. For good or for ill, every item and event in daily life will be linked, cross-connected, intertwined and meshed. What's more, the majority of the connections will consist of little more than thin air — giving birth to the World Wide Wireless Web, or W4.
On the home-networking front, emerging technologies such as Bluetooth, IEEE 802.11, Home RF and others will provide wireless data links to virtually any device in the home or office.
With these technologies, it is easy to imagine a fridge connected to a microwave, connected to a television. The next step is to connect all these device to a residential gateway to the global network infrastructure. Satellites will also play an important role in linking up buildings without the need to pull cables or lay fibre.
Another obvious facilitator of the W4 paradigm will be the cellular operators, who will evolve their existing circuit-switched voice networks with 2.5 and third-generation networking platforms like Wideband CDMA or cdma2000. As cellular networks become packetised , they in themselves will become a wireless Internet covering most of the world's population.
Satellites will survive
One of the downsides of the endless frenzy for new communication technologies is that the less fashionable systems are neglected. A good example of this is that infinitely flexible, tried-and-true technology, satellite.
Broadband cable, 3G cellular and other current techno-fetishes will come and go, but the simple utility of the bird in the sky will ensure that satellites and their derivatives will be around at the end of the next millennium.
The advent of fibre in the 1980s, with its higher capacity and lower costs, meant satellite's days were considered numbered. Likewise, the emergence of the Internet and broadband cable in the early 1990s, meant many telcos have focused their attention away from satellite solutions.
But satellite is the ultimate go-anywhere-anytime deliver-any-bandwidth kind of transport system. Till now, satellite has been primarily a provider of television and telecommunications backbone services. In the coming years it will increasingly provide personal services. New technologies are opening up satellite services direct to the end-user with platforms such as Hughes DirecPC and DTH and DTV services.
It also means VSAT-based fixed voice. Even GMPCS has a future, despite its near-death experiences to date. The concept is not new : Inmarsat pioneered the global mobile satellite segment in the early 1990s. But most likely we will see a cellular-satellite hybrid emerge to provide total global coverage for those who need it.
Satellites will benefit from humanity's inevitable push into space: for work, travel, exploration. This will drive advances in solar cell, onboard processing and launch vehicle technology, further reducing costs and increasing reliability.
The business too, will become more sophisticated, with improved risk management. Specialist operators are already emerging offering in-orbit spare capacity.
On planet Earth we are seeing new systems, such as auto telematics, GPS-enabled location services and cargo and parcel tracking.
All of this does not mean satellite will replace cable. We will see satellites work with cellular and cable, providing tails and integrated wireless solutions. In three short decades satellite has made as indelible impact on mankind . Those eyes in the sky will be with us for a long time yet.
The mobile phone
The 1960s saw the coming of the transistor radio, the world's first personal electronic device. The 1980s witnessed the impact of the Sony Walkman and its imitators. The 90s has been host to the boom in hand held games and PDAs. Without doubt, the third millennium will confirm the mobile phone as the world's favourite personal electronic companion.
It's the hottest consumer product since the automobile. Already 400 million people around the world use a mobile.
The PDA market has jumped since the launch of the palm pilot, but essentially the standalone, digital assistant, however friendly it may be, will run a poor second to the phone while it remains dumb and isolated.
Cellular has succeeded because communications and mobility go together. The availability of a communication device instantly makes a human more free.
Before long we will have a seamless high-speed connection to the Internet. In the next millennium, we will see a myriad of combinations. Many will be simply networked devices — fridges and computers and hi-fis talking to each other as part of a household central nervous system. Or parcels enroute being trackable through a GPS- capable radio transmitter..
But for human beings the core will be the mobile phone and its ability to take us anywhere on the planet and, before too long, beyond. Just as the auto now comes in all imaginable shapes and sizes, so will the mobile phone.
Mobile phones will get bigger in capacity. It will have a larger screen. It will get smaller in size. It will take you on to the Web. It will be driven by an intelligent agent. It will support a dozen different plug-ins — for music, video, and yes even a PDA. It will become ubiquitous and infinitely flexible— humankind's constant companion in the third millennium.
Spectrum will be abundant
There's another major sea-change at work in the telecom industry with equally profound significance. It is humankind's increasing ability to harness spectrum for communications applications. Not too long ago, the bulk of communications was conducted using insecure, bandwidth-hungry analogue communications in the sub 1 GHz band. But the 1990s has seen two major trends. Firstly, the digitalisation of cellular and now mobile radio communications. The advent of TDMA and FDMA radio interfaces in the early 1990s saw potential use of spectrum capacity increase by at least four times.
The replacement of these interfaces by CDMA is increasing this utility by a further two to four times. Secondly, the capacity of radio equipment to operate in the microwave band of spectrum has increased exponentially of late. Although technology operating in the 2 GHz band has been relatively common for some time, especially for video use, the development of LMDs and other microwave systems in recent years has increased the range of commercially exploitable radio spectrum by a factor of over twenty times. There is now radio equipment operating at above 40 GHz.
Triumph brand
In the beginning was the cellular phone, and there was coverage, and high margins, and ever-soaring demand, and it was good. But along came competition, and new technologies, and prices began to fall, and consumers were happy. Yet now, as we breach the third millennium, cellular's glory days are numbered. It has become a regular consumer product, with margins constantly shrinking and intense competition driving network and service innovation.
There is still plenty of money to be made. And operators — especially in the mature markets — speak confidently of new technologies and applications : wireless data, information services, mobile commerce. Every cellular player has a lengthy list. But the competition is doing the same thing. Everyone will offer wireless banking, stock trading, bill payments, web access and music downloads.
The winners in such a cluttered marketplace will be the brand leaders. Only through branding can operators develop the differentiation which can genuinely influence consumer choice.
In the new millennium, no company is an island. The successful enterprises will be built on partnering. A strong brand guarantees good partners; a powerful consumer brand will want to leverage a brand with a similar positioning.
It will be the strong brands that will have the grunt to push into new markets and segments as the cellular industry evolves. Just as Mannesman and Hutchison have come into the mobile industry, so can mobile operators drive into new sectors by virtue of the confidence they have won from consumers.
While wireless technologies are bound to flourish in the 21st century and in doing so untether users from the traditional telecom network, that doesn't mean that the wireless industry is going to be universally thanked for making it possible. Indeed, over the next century, if current trends continue, wireless players are going to have to contend with the inevitable backlash from the public on two basic fronts: social nuisance and deadly health risks.
Wireless insiders typically cry foul whenever mobile giants are compared to tobacco kingpins, which is a fair call in the sense that cell phones, unlike cigarettes, are useful products that have been known to save lives. And while one could argue that cell phones are as addictive as cigarettes, handset manufacturers can't be accused of secretly spiking mobile phones to make them more addictive.
None of this will stop people from using cell phones any more than the tobacco industry's behaviour and the health risks of cigarettes has stopped people from taking up smoking. But even if independent studies eventually conclude that RF radiation risks from cell phones are negligible, cell phones like cigarettes , are already being regarded as something of a social menace in some circles.
And, just as smoking is increasingly banned from public buildings, restaurants and airplane flights, cell phones are starting to enjoy similar attention. In some places it is now illegal to use cell phones in hospitals, on subway trains or while driving.
Some people have even been taking a vigilante approach. A London based anti-cell phone web site — www.phonebashing.com — shows anti-mobile phone activists dressed in stolen cell phones costumes, randomly sneaking up on unsuspecting cell phone users, snatching their phones, smashing them on the ground and then running away very fast. No, really.