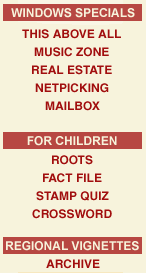 It is a free market
APROPOS of Peeyush Agnihotri's article "It is a free market" (March 4), the corporate giants, the MNCs and other companies are giving lucky coupons, free gifts, cash prizes and gift hampers to push the sale of their products. These companies are roping in film stars, fashion models, cricket players, teenagers and even children to publicise their products and are spending crores of rupees on ads. If only a part of this huge amount being spent on publicity, is utilised in reducing the rates of their products and for opening hospitals and schools for the people below the poverty line, the common man would value their noble gesture forever!
O.P. SHARMA
Faridabad
Martyr forgotten by his state
This refers to the article "Martyr forgotten by his state" (March 4) by Pratibha Chauhan. It was disheartening to note that the Himachal Pradesh Government has not done anything to acknowledge the sacrifice made by Major Sudhir, who laid down his life for the nation. It is the responsibility of all citizens as well as the Central and state governments to look after the families of those killed in action.