Sunday, March 26, 2000,
Chandigarh, India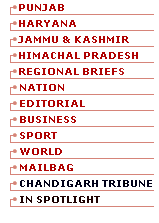 M A I N N E W S
Man poisons 10 of kin, himself
From Varinder Singh
Tribune News Service
BUDHANWAL (Jalandhar), March 25 — In a shocking incident, Gurmit Singh, Sarpanch of this village and 10 of his family members died after consuming poison, allegedly distributed by the sarpanch.
Gurmit Singh (40), allegedly committed suicide after poisoning his family members in his house last night. Six persons died at Shahkot, one died while being taken to Jalandhar for treatment. Four members of the family died at Civil Hospital at Jalandhar, police sources informed.
Though exact reason could not be ascertained as yet, Gurmit Singh, who was in a drunkard state, allegedly made his family members consume some tablets saying it was a medicine for curing diabetes. Later, same tablets were consumed by him after having his dinner. Some people said he had also forced his servant Mohinder Lal, a migrant labourer, to take the tablets. On the contrary, Mohinder Lal, in a statement to the police, said he had demanded tablets from Gurmit Singh, but the latter overlooked his request and ordered him to go the family's haveli, where he was staying with another migrant servant.
Mohinder Lal, on whose statement a case of murder and attempt to murder has been registered by the police against Gurmit Singh, said Gurmit Singh's family members were sitting in a room and died soon after having their meals around 9 p.m. while watching television. The incident came to light only when a woman from the neighbourhood visited the ill-fated house in connection with some work. Hearing her shrieks, villagers gathered there and rushed family members to the hospital at Shahkot.
Talking to the TNS at Civil Hospital, Balbir Kaur , the lone survivor of the 12-member family, said she did not get the tablets, probably due to the reason that she was not present there and was in another room. Balbir Kaur, who lost her husband Shingara Singh (45), an uncle of Gurmit Singh, son Sodhi (15), daughter Rani (17) was in a stunned state. "I don't know what to do as my entire family has gone, leaving me all alone," she rued.
Among those killed were Joginder Singh (65), the father of Gurmit Singh, and six of his family members, including his wife Gian Kaur (60), daughter-in-law Daljit Kaur (38) and grandchildren Harpreet Singh (12) and Manpreet Singh (14). Two other members of the joint family — Mohinder Singh and one of his two sons Kukku also perished in the tragedy. Mohinder Singh's second son is away to Germany, family sources said.
The family, the sources said, owned 22 acres of land besides having share in a cold storage. The police, which is working on many theories, did not rule out the possibility of the case to be that of a mass suicide owing to some debts. The sarpanch was said to be mentally upset over some minor family problem, said the Shahkot police station authorities.
Meanwhile, a pall of gloom was all pervasive in the village where most of residents did not cook their meals this morning. Relatives and people from neighbouring villages came to the village in large numbers to express sympathy with Balbir Kaur, who was sent back to her home after treatment.
The bodies of five members of the family, who had been taken to Civil Hospital were taken to Nakodar Civil Hospital, where six other bodies have also been shifted for the post-mortem.
A case under Sections 302, 307, and 328 of the IPC has been registered at the Shahkot police station.
Meanwhile, as the sarpanch and his family members were cremated amidst wailing by near and dear ones, no one in the village, his relatives and friends was ready to believe that a person like Gurmit Singh could commit a crime like poisoning of his own family members.
Mohinder Lal, one of the two migrant family servants, has been taken into custody by the police authorities, which refused to divulge any details into the incident except saying that "the investigation was on".
The dead bodies of sarpanch and his family members were cremated by villagers in the 22-acre family farm this afternoon on the outskirts of the village.
Talking to The Tribune, a number of grieving relatives, friends and neighbours, refused to believe that Gurmit Singh could poison his family members, "He had no need to do it, since he was well off and did not owe any debt or anything to anybody," said Rattan Singh of Fattuwal village and a relative of Gurmit Singh. "He was a very optimistic person and did not have any problem with anybody outside or within the family," he claimed.
"How can we believe that a person, who loved his family so much, can commit such an act. Something is fishy, though at the moment we cannot suspect anybody," murmured Amrik Singh, one of cousins of Gurmit Singh. Same was the view of four surviving sisters of Gurmit Singh. "There was no need for him to kill his own sons, father, mother and other near and dear ones," said Amarjit Kaur, one of Gurmit's sisters while holding his picture in her hands.
Similarly, Bachitter Singh of Suddhuwala village, brother-in-law of Gurmit Singh said the incident had left us surprised and shocked. We cannot express our feelings in words," he remarked.
Recalling the incident, Surjan Singh, a neighbour, said his family came to know about it at around 11 p.m. when he heard someone knocking at his doors. "When I came out I saw Gian Kaur, the mother of Gurmit Singh, crying for help in a feeble voice. Save us, all of us are dying, were the last words which came from her mouth before felling unconscious on the doorsteps," he said.