A few weeks prior to Mann's film came the blockbuster in the shape of Jaspal Bhatti's rib-tickling satire on the police force. The laugh-a-minute comedy Mahaul Theek Hai broke the 33-year-old record of Punjabi films in Chandigarh alone as it had a successful stint of 13 weeks. Silencing his detractors, who all along had sniggered that Bhatti couldn't possibly sustain humour for three long hours, he passed the ultimate litmus test as the film notched points after points on the audience appreciation scale and celebrated its silver jubilee. Spurred by its success, the comedy king is all set to release the dubbed version soon.

Three milestones in a span of two years! Punjabi cinema has never looked so good. As Vinod Sharma, associated with public relations of two films Mahaul.... and Shaheed Uddham...:, gushes: "If ever renaissance in Punjabi film jagat was possible, this is the moment". Come to think of it the films came about at a time when the obituary of Punjabi films had been written and sealed for posterity to analyse. At a press conference announcing the launch of Mahaul..., Bhatti had guffawed: "I am committing a grave blunder". When he said this, he wasn't delivering his patented one-liners. The man was dead serious. Bhatti confessed: "My friends and well-wishers thought I had lost my mind. Instead of congratulating me, they commiserated with me". And not without reason. Punjabi cinema, despite almost a seven-decade-old legacy — the first film Heer Sayal was made in 1932 — has had at best a chequered career. Hits were more or less like a flash in the pan. Their brilliance was but ephemeral. Perhaps the worst blow was dealt when the rule of gun reigned supreme but even in the post-terrorism days, the industry failed to see better days. In 1995, the number of films released was 11, it plummeted to seven in 1996 and touched a low of five in 1997.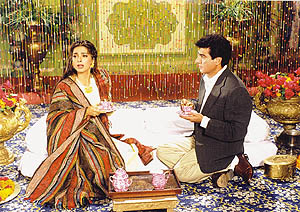 Like a breath of fresh air enthusing life into the asphyxiated industry, these three films have set new standards of excellence in the Punjabi cine world. Amazingly, the films belong to different genres and have different themes. True both Shaheed-e-Mohabbat and Shaheed Uddham Singh were period pieces. But one was a heart-rending account of a lovelorn couple torn apart by the Radcliffe Line, while the other chronicled the saga of the legendary martyr who, the maker Iqbal Dhillon insists, had been "forgotten by an ungrateful nation." Earlier, two award-winning films-- Marhi da Deeva and Kachheri -- and grossers like Chann Pardesi were made. But Rupinder Gill, co-producer of several hit films like Putt Jattan De, agrees that it has always been a bhed chaal. For instance, out of the seven films that he produced, nearly all 'showcased' the valour of jats. Why the films even had the word jat in their titles!
Earlier also the mega success of Nanak Naam Jahaz Hai had spawned a series of religious films like Nanak Dukhiya Sab Sansaar, Mitar Pyaare Nu, etc. In the fifties, the leitmotif running through Punjabi films mirrored the Punjabi folk dances woven around rural themes. Remarks Bhatti: "Punjabi audiences have been shortchanged for far too long and served the same concoction of bhangra and giddha ad nauseam". Small wonder that when he made a break from the past, he touched a nerve. B.N. Sharma, a seasoned actor who has worked in over 30 Punjabi films, agrees: "The maker can no longer afford to dwell in the past. Besides keeping in sync with changing times, he must possess a vision. He has to transcend the present and connect with the future".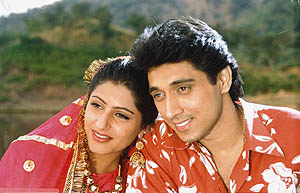 Alas, the tragedy of Punjabi cinema is that it woefully lacks full-time producers. But for a rare Dhillon, producers come and go. Some try to capitalise on the occasional sops offered by the government, some want to be part of the glamour; but whatever the motive, the reasons are not strong enough to cement a permanent bond with the industry. Not that they can be faulted. Small territory translates into bad economics. The apathetic attitude of the government, which has disbanded the subsidy policy but framed no alternative incentives, only compounds the crisis. But then a bankrupt government can hardly be expected to pay heed to "insignificant" matters like culture and films. Bhatti says: "I feel ashamed to contact officials in the government. The unanimous refrain of the officialdom is, "What can we do when he haven't ever got our salary?" Dhillon, however, is not that benevolent. He furiously quotes statistics: "Can you believe that while other state governments like Maharashtra offered us tax exemption for one year on any number of prints, our own Punjab government consented to grant it only for six weeks and that too only for 10 prints? What more can I say about a government that hasn't bothered to institute an award which costs nothing."
In the absence of government patronage, coupled with the diffident stance of the media — even vernacular press puts Punjabi films on the inside pages — the onus is on individuals. All the three big-budget Punjabi films rode piggyback on the powerful images of stars, albeit from different realms. Dhillon unabashedly admits that but for Raj Babbar, Shaheed Uddham Singh would have never been made. Apart from contributing in terms of a sterling performance, he roped in other stars like Juhi Chawla who agreed to work for free. Insiders, however, argue that star presence was merely one part of the success story. Hadn't Mann acted in films before too? At the end of the day what brought back the dwindling tribe of Punjabi cinegoers to theatres was the emphasis on quality. As Vinod says: "Nearly 7000 feet of Shaheed Uddham Singh was cut to ensure a slick product." And the sincere endeavour was bound to pay dividends. Onkar Singh Bains, a producer who has distributed Shaheed Udham Singh in Europe and Canada, claims that the movie is doing brisk business in theatres where even Hindi blockbusters rarely go beyond four weeks. Maninder Gill of Raja Entertainers, which possess the audio rights of the film, says: "Over half-a-million albums have already been sold thus making it a competitor of Punjabi pop music. Even CD sales have been unusually high".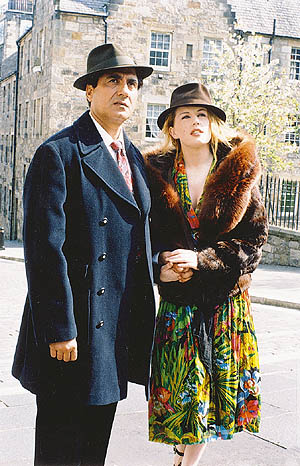 Success stories breed clones — have these three hits opened new doors? Do fresh vistas beckon? Yes and no. Sharma, though happy with the recognition his comic portrayal of Biloo bakra in Mahaul..., rues that in all likelihood none of the nine unreleased films he has acted in will see the light of day. Put simply, even today there are no takers for Punjabi films, even for big-budget films like Dard Pardesan De. The only movie that is likely to hit the big screen in near future is Sikandra which hopes to recapture the magic of star jodi Guggu Gill and Yograj Singh. For the Punjabi film producers, the vicious cycle of low investment - low returns - low quality remains intact. The not-so-conducive environment can be gauged from the fact that producers like Gill haven't cared to make a film since 1993. Bhatti, who insists that he didn't even make a penny (not even to buy his shoe laces) out of his film, justifies the mood: "Though the film industry follows no set rules and tomorrow a small-budget film might set a new record, the small producer at this moment is scared and sitting tight." To say that one good film is better than 10 awful ones is sheer hyperbole. For an industry to survive, more films have to be made.
Till the low-budget film-maker musters enough courage, the industry has come to depend — heavily at that — on big-time players. These players not only have the megabucks to spare but also wield enough clout to pull out all the stops. More pertinently, they possess an obsessive urge to pay a cinematic tribute to their mother tongue.