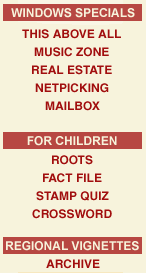 Expressions with a past
MEDDLERS often get chided with the words 'stick to your last' or, "a cobbler should stick to his last". A Greek artist called Apelles, who lived in the time of Alexander the Great, once made mistake in his drawing of a shoe. A shoemaker drew attention to this error. The artist bowed to the shoemaker's expertise and made amends. But the shoemaker got bold enough to suggest changes in the legs of the subject in the painting. This Apelles could not digest. So he rebuked the cobbler. 'Stick to your last', the last being the cobbler's block or artificial foot used for making or repairing shoes. A highly obscure word, ultracrepidarian, going beyond one's own ability or area, comes from this episode as well. This word is derived from the Latin ultra crepidam, meaning 'beyond the cobbler's last'.
During exam-time students are often on tenterhooks, that is, tense, nervous, waiting for the exam to resolve their suspense. Imagine a piece of cloth stretched tight over a frame and the mental state of these poor souls is clear. After rinsing or dyeing new cloth, it would be stretched over a framework called a tenter with a series of hooked nails called tenterhooks. Tenter comes from the Latin tendere or to stretch.