Breaking free
With the age of the microchip dawning upon us, women are seeking their own identities. Muskaan on Zee every Monday at 9.30 p.m. revolves around Kashish, a young lady who wants to break free from the stereotype role of a woman. She's a career woman with a mind of her own.
The trouble is that her immediate family fails to appreciate her approach to life and wants her to conform to the mundane — marriage, children and a life devoted to tending house and home.
For Kashish these are not important. Least of all marriage. But she bows to her parent's wishes and marries the boy they have selected for her. And then the drama begins to unfold....
Which all makes Muskaan a very contemporary serial. But one which could have been handled more deftly. For starters the narration is slow-paced and situations are exaggerated. If you ignore these flaws, you are certainly going to find it absorbing.
Dogging on
Courage The Cowardly Dog on Cartoon Network is a new half-hour series that chronicles the life of an incredibly timid dog. Ironically named Courage, he must regularly defend his owners — an old couple living on a lonely farm — from paranormal elements that threaten their simple existence.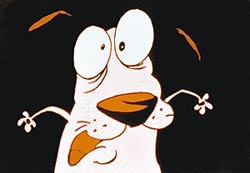 Based on the 1996 Academy Awards nominated short film, The Chicken From Outer Space, this series introduced a dog whose personality is as contradictory as his name. He is small and spotted with spindly legs and a big paranoia problem.
But despite his faint-heartedness, when things get rough Courage somehow overcomes his nervous demeanour and exhibits enough ingenuity to rescue his owners from the endless barrage of factors that continually invade their lives.
The series introduces a cavalcade of bizarre creatures. Making the creepy encounters even more frightening are the striking photo-realistic backgrounds in the show which kids of any age will enjoy a great deal.
Slick thriller
This is an out-and-out urban thriller with all the ingredients of suspense, drama, blood and gore.
Iskaboner Bibi on Zee Bangla every Sunday at 9 a.m. attempts to expose a bizarre gang of underworld criminals who are out to spread terror and mayhem.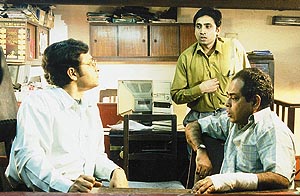 It is about a pretty young law graduate, Rani Sanyal, who comes to the city for a career in law. But as luck would have it, she unwittingly gets entangled with a dreaded don and his goons targetting people who have crossed their path.
Rani vows to become a leading criminal lawyer and bring all such elements to book who are terrorising innocent people. She knows this is a tough fight but is determined to root out the evil.
Even as she embarks on her mission, a chain of events starts which takes her completely by surprise. What are these events and who are the people behind them? Watch this edge-of-the-seat thriller for the answers week after week.
Height of adventure
It was a flight that changed the world. When Charles Lindbergh flew solo from New York to Paris in May of 1927, he linked two continents, and in so doing, became the most famous man on earth — rather above it.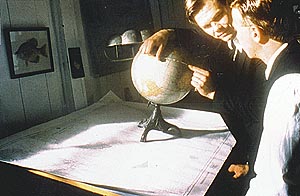 Described by the then American President Coolidge, as a "courageous, clear-headed, sure-handed youth", Lindbergh was only 25 years old when he made his flight, and went on to lead a life in the spotlight, filled with controversy.
Using an exact replica of Lindbergh's plane, the Spirit of St. Louis, National Geographic Channel re-enacts the tension-filled flight on April 19 at 10 p.m. in The Lone Eagle.
It also recounts the mounting excitement felt by thousands of people on each side of the Atlantic which grew more frenzied with every passing hour of Lindbergh's unprecedented journey. More than a TV film this is a breathtaking journey into the past.
— Mukesh Khosla