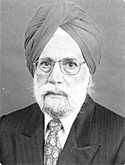 Tercentenary tribute through health for all
"Ekas ke sab barak -- Sarbat da bhala"
by Dr M. L. Kataria
DARBAR Sahib, at Amritsar, was revealed to the divine vision of Guru Arjan Dev, its creator and architect, with an open door in all the four sides, "for divine and noble thoughts to pour in from all directions", as envisioned in the Rigveda, the oldest book of the world. It invited humanity at large to come in from anywhere and everywhere for prayer and peace.
Unusual as it may appear today, the foundation stone was laid by the holy hands of a divine Muslim, Sufi saint Mian Mir from Lahore. The holy Guru Granth Sahib, reigning at the holiest of the holy shrines, also includes divine hymns of 15 Hindu and Muslim saints in their original dialects.
No wonder, when Dara Shikoh was wounded and fell ill, medicines prepared from amla and allied herbal shrubs, routinely administered at the gurdwara at Anandpur Sahib, were also unhesitatingly given to the aides of this fallen "enemy" to help him stand up and fight again.
In the light of these unparalleled glorious traditions of saintly valour of the Khalsa, during this year of its tercentenary celebrations, this is a brief account of a very significant contribution to health-care for all — Hindus, Muslims, Sikhs and Christians, rich and poor, high and low, jhuggi-dwellers as well as those living in mansions around.
Rain or sunshine, winter or summer, this routine "sewa" is being rendered every Sunday for the past decade at Gurdwara Sahib Dasween Patshahib, Sector 8, Chandigarh.
Historical records reveal that Kalgidhar Guru Gobind Singh, during his holy war against the tyranny and religious persecution by the Mughal empire, camped at this very site for some time on his way to Anandpur Sahib.
No wonder, people, not only from Chandigarh but also from far flung villages and slums, from Punjab, Himachal and Haryana, come here full of faith and hope for cure. It is quite common to see the faithful donating money after receiving a prescription or any other service and insisting on any available substitute for a non-available prescribed medicine from the gurdwara dispensary. Faith in HIM heals them more than the doctor's medicine!
At the sacred feet of Guru Granth Sahib, within the range of the serene sanctity of the melody and music of the healing "shabad kirtan", crowds of patients line up with rare patience without a murmur, waiting for their turn. There is not one queue but several queues, one each for the consultant, the dispensary, the laboratory, ECG, X-ray and physiotherapy services, all operating, simultaneously. They are all "sewadars" — the consultant, the nurse, the technician, the pharmacist, the physiotherapist and the social worker.
There is pin-drop silence but for the occasional voice of the administrator "sewadar" calling for the missing links in the queue, who, might have gone for obeisance to the sanctum sanctorum or to partake of the langar.
Eversince its inception, this unique Health-care Centre has rendered creditable service to all sections of society. Nearly 25,000 consultations have been given, supported by a well stocked dispensary service, 5000 X-rays and 6000 ECG examinations, over 6000 complete urine and stool examinations, 7500 blood sugar estimations, 5000 kidneys function tests, 4500 liver function tests, 7500 haemograms, over 5000 lipid profiles, over 2500 pregnancy tests for family planning, nearly 1000 blood smears to detect the malaria parasite, besides a large number of other miscellaneous tests. All services are free.
Donations literally pour in incessantly. The budget has never been a constraint. There is an invisible but very perceptible "force" sustaining this selfless effort. A few years ago, the requirement for a physiotherapy centre was also felt. One wonders who was behind sending Rs 5 lakh for this total project, including accommodation and equipment, as soon as it was conceived. It is a pleasing sight to see the young and the old, the rich and the poor, men and women, all making use of this popular centre, like a health club, day in and day out.
The credit for setting up this unique health-care service goes to a great visionary, philanthropist and social worker par excellence, Sardar Chandan Singh, a retired high level civil servant, who is the permanent chairman of the medical services committee and also the president of this historic Gurdwara Sahib. A team of dynamic secretaries and a dedicated executive committee assist him. He is equally effectively associated with half a dozen more educational and social welfare organisations and institutions. His gradually dwindling eyesight is no handicap for him!
Just as this historic gurdwara has been dedicated to the Tenth Guru, this health-care centre has been named after Bhai Kanhayya, the world's first Red Cross man, appointed by Guru Gobind Singh himself to nurse the sick and the wounded in battlefields. Bhai Kanhayya embalmed the wounds and quenched the thirst of one and all, including the fallen and wounded enemies. When produced before the Guru for this unpardonable gross indiscrimination, the great soul embraced him after Bhai Kanhayya reminded him of his own dictum: Ekas ke sab barak — Sarbat da bhala!
— Dr (Brig) M.L. Kataria is an honorary consultant "sewadar" at the Bhai Kanhayya Health-Care Centre, Chandigarh, since its inception. Devoted to Daridranarayana, he has healed thousands of slum-dwellers in the country from various centres.