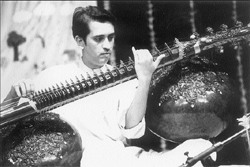 Rudra veena — re-emerging from oblivion
By Vandana Shukla
TWENTY generations of the Dagar parampara has produced numerous well-known Dhrupad singers. But their contribution in producing a tradition of instrumentalists is not so well known. Their long-time efforts in researching and improvising instruments like the tanpura, sur bahar, rudra veena and many others has remained in the background, supporting and improving the quality of sound and music.
It was to the credit of late Ustad Zia Mohiuddin Dagar that the rudra veena was brought back from oblivion. He took 30 years in re-shaping the instrument which used to be made of a simple bamboo rod. After studying the acoustics of different timbers, metals and shapes, he with the help of Kanhai Lal and Sons of Calcutta gave the instrument its present shape. The changes brought forth by his labour of love are evident in the improved quality of sound and greater freedom in providing fine tonal adjustments to the artiste. Now, it is his son Baha-ud-din Dagar, elegant and self-assured,who plays the instrument with great elan. He was in Chandigarh on an invitation from SPICMACAY to give concerts in the local colleges.
The Dagar parampara came into being with Swami Haridas Dagur and produced a string of maestros who kept alive the mystical and sacred tradition of Dhrupad gayaki. Though all eight Dagar brothers practised vocal as well as instrumental music, their public performances were strictly restricted to their profession.
So, Ustad Zia Mohiuddin Dagar produced many vocalists, but never performed on the stage. Similarly, Ustad Zia Fariduddin Dagar trained Bahauddin in rudra veena after his father's demise, but never played it on the stage. Sustaining a musical career in an unusual and not-so-popular instrument must be a difficult task for the Dagars. Even in the vocal tradition, when others have been singing khayals, the listeners for Dhrupad have always been selective, it has not been a very popular style of singing.
Following this tradition for 20 generations, Dagars have acquired an unusually stoic temperament which is more than evident in Bahauddin despite his very young years. In the absence of any concrete help coming neither from the government nor from the corporate, the family has started its own small gurukul in Palaspe, near Palvil, a suburb of Bombay. With a few resources they manage to keep students for five years, train them in vocal Dhrupad tradition and in instruments like sitar, sarod, sur bahar, chalo and flute and then provide them a stage to perform as professionals.
Despite a severe restrain of resources, some of them have made great success stories from this small gurukul by sheer devotion and hard work. Gundecha brothers who used to eat only one meal a day for years together to manage within Rs 300 of scholarship shared with the family, are a well-known name today in the world of music. With just three veenas that they have, each instrument costs around Rs 75,000 and would take three to four years' time in making, his father managed to produce students who are playing this instrument abroad; in France Philip Teuje and Philip Rugniye and Jack Luis in the USA.
Bahauddin says there is no dearth of good artistes, but they fail to come to the limelight, because the resources are made available only to a few stars. Yet, he does not complain. He believes ultimately it is the quality of music that matters, not the stardom. He does not want to chase popularity, nor does he want to switch over to playing popular instruments like the sitar.
He says, "I don't even play fast taans on the sitar because my instrument is not well suited for it. You cannot make an elephant run like a deer". He is complacent. He says people might like the unique grace of his instrument, or they may not like its slow pace, but he will not make it a hybrid for playing to the gallery.
He says, "Whatever I search for in music, I have not yet realised. I want to explore it through this medium." To him, his instrument is like a computer that can measure and produce finely augmented and diminished notes barely discernible to untutored ears. The veena does not have sympathetic strings. This enables it to produce micro tonal variations.
The instrument looks bulky and the artiste holds it like one holds a sitar, but it is light in weight. Matching the looks, the sound too has a deep resonance and a fine tonal quality. The artiste plays it in a slow majestic pace. The body is made of teak wood. The hollow 'tumbas,' made of dried pumpkins, are elaborately decorated. Bahauddin says even the amount of decoration affects the quality of sound in the instrument. Hence, the decoration should neither be a little less nor a bit more. The slightly curved bar allows the sound to create a sphere of sound waves, unlike the sitar which has a straight bar where the sound waves reflect back. In rudra veena it keeps moving in a sphere, thereby, improving the tonal quality, but at the same time, this sound cannot be recorded nor a mike can be of use. So, to get over this problem he uses a mike inside the tumba. The frets are movable and have all three octaves. The four main strings are tuned to shadaj, pancham, and madhyam. Three chikari strings are for keeping 'taal' and one string of laraj is played between the phrases. A mass-scale production of the instrument is not possible. Each piece has to be created, and no two instruments can have similar quality of sound.
There is a three-tier system of learning to play the veena. First, the student has to understand, by practice, the classical system of music; then, he or she is trained to play the sitar; thereafter, they are made to play sur bahar for a few years. Only then are they considered fit to play the veena. The road is long and arduous and success not ensured.
Is he optimistic about the revival of rudra veena? Bahauddin's pragmatic approach is truly philosophical. First, he is trying to get a few more instruments made. Then he proposes to offer scholarships from his own resources and train a few students in his gurukul. The rest he will leave to the forces of time and divine will.
Bahauddin has been awarded the Xal Praxis Foundation Scholarship and has performed in prestigious sammelans and samarohs in India and abroad. He played raga Madhuvanti on the veena in his unique style of long and slow paced 'alaaps' and 'taans' at GCG, Chandigarh. He was accompanied by a very competent pakhawaj player Sanjay from the accomplished Nana Palse gharana.