Laila sizzles again
When they were first cast together as co-hosts of BBC's Style, Laila Rouass and Rahul Bose made a striking pair.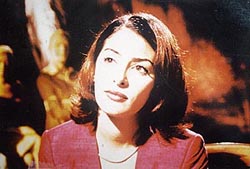 Then they drifted apart. The effervescent Laila found her metier as hostess in Channel V's Close Encounters. And Rahul Bose was just happy to get whatever assignment came to him. Whether it was Dev Benegal's English, August or Govind Nihilani's Takshak.
Now they are back again in Benegal's latest movie Split Wide Open. Rahul plays KP, a hustler who sells tap water to the poor and bottled Evian to the rich.
Laila Rouass is Nandita, an NRI from London who hosts a TV show where people come and talk about their secret lives. One day TV and the mean streets of Mumbai meet and the worlds of KP and Nandita collide. And, once again, their chemistry starts simmering.
Born in London to Moroccan-Indian parents Laila counts her mixed parentage as a blessing as it gave her an insight into different cultures. And that's the experience she brings to Split Wide Open which, incidentally, she says is the best role of her life.
Will this big break in films mean goodbye to TV? No, says Laila. "I'll pick up any good role which comes my way — TV or films. There's too much competition out there to reject any good offer." Pragmatism at its very best.
Footloose
Based on the world-renowned travel guidebooks, Lonely Planet on Discovery channel documents journeys of people who explore the richness, diversity, and cultures across the globe. It takes viewers to extraordinary destinations with people who enjoy their travels.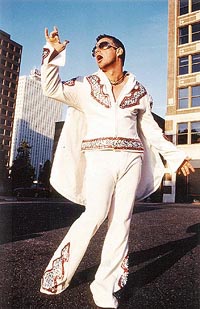 Winner of numerous awards, Lonely Planet brings beautiful landscapes and exciting adventures to viewers around the world, sharing exploration experiences and knowledge along the way.
From magical hillsides to glamorous islands Lonely Planet focuses on the unique history, culture and geography of intricate pieces of the earth.
Each episode ventures into a different culture in an up-close-and-personal format where nothing stands between the camera and reality. The show incorporates "survival" tips, rituals and legends which go to make every place unique in itself.
If you enjoy travel, don't miss the fascinating series which premieres every Friday at 10 p.m.
Sahara's new channel
There's a new channel beaming from the skies. Sahara TV was launched recently amidst much fanfare. Though a virtual clone of Zee, Sony and Star Plus, it promises to be different in the days to come.
As of now, however, the 24-hours channel will have soaps, comedies, real-life dramas, film-based programmes, business, news and current affairs. A "comprehensive entire-tainment content for all viewer segments," as a spokesperson puts it.
And true to its word, the channel has roped in well -known directors like Lekh Tandon (Kahin Der Na Ho Jaye)Ravi Rai Kshitij, Vinod Pande (D-Line) and Imtiaz Ali (Naina)to kickstart its entertainment package.
Though it promises to 'freeze eyes, minds and remotes' only time will tell if it succeeds. But the good news is that with competition getting fiercer, each channel will be vying for viewer attention and the quality of the programmes is bound to improve across the board.
Pygmies of Africa
Deep in the heart of the African rainforests live the Aka pygmies. And on the edge of the forest ,live the villagers of Bagandou, who own these pygmies, passing them from one generation to the next. It's been that way for 2,000 years.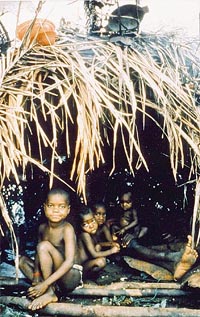 A Caterpillar Moon on BBC is the first film ever made about this extraordinary relationship. For the villagers the forest is a dangerous place of powerful spirit. They prefer their slave pygmies to go there and bring them back fruit, meat and honey.
In return, the Aka can get the carbohydrate their forest diet lacks, in the form of cassava (a root plant), and maybe some salt, cigarettes and, sometimes, clothes.
The Caterpillar season is the Aka's favourite time of the year. That's when millions of Caterpillars fall from the mahogany trees and litter the forest floor with the most sought after food.
The forest is the Aka's domain. It's where they sing and dance and romance. Sometimes dramatic, sometimes gentle, this is a rare insight into two amazing cultures.
— Mukesh Khosla