Tuesday, April 18, 2000,
Chandigarh, India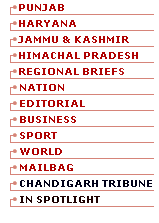 M A I N N E W S
Three die in blast, curfew reimposed
AGARTALA, April 17 (PTI, UNI) — Three jawans of Tripura State Rifles (TSR) were today killed and 16 injured in a landmine blast triggered by suspected militants of All-Tripura Tiger Force (ATTF) at Sonaicherri in West Tripura district, the police said.
The incident occurred when a security convoy of Sub-Divisional Police Officer (SDPO) of Khowai drove over the landmine planted by the ultras, Mr Selim Ali, IGP, told reporters here.
While one jawan was killed on the spot, two succumbed to their injuries, he said. The 11 hour-long curfew, which ended at 5 a.m. today, was reimposed from 8 p.m. tonight in West Tripura's Jirania police station area, witnessing ethnic violence since April 10.
Official sources said the area remained peaceful during the past 72 hours. The curfew was reimposed as a precautionary measure in the trouble-torn area.