Saturday, April 22, 2000,
Chandigarh, India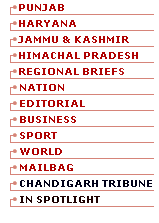 M A I N N E W S
Bibi's teenaged daughter dead
Mystery shrouds circumstances
From Varinder Singh
Tribune News Service
BEGOWAL (Kapurthala) April 21—Harpreet Kaur (19) a daughter of the SGPC chief, Bibi Jagir Kaur, died under mysterious circumstances while she was "being taken" from Phagwara, where she was staying with a family friend, to a hospital in Ludhiana today in the wee hours. Even as no post-mortem examination was conducted, Bibi Jagir Kaur, her kin, friends, certain SGPC officials and the police authorities claimed that there was no foul play and it was a" natural death due to fever and subsequent dehydration".
Harpreet, according to Bibi Jagir Kaur, her brother Nirmal Singh and the SGPC secretary, Dr Gurbachan Singh Bachan, was undergoing treatment for "fever and vomiting" at Phagwara, for the past few days, but none of them revealed the name of the hospital in which she was admitted or which doctor had been treating her. A visibly shaken Bibi Jagir Kaur, Dr Bachan preferred to keep mum about the identity of the Phagwara-based relative with which her two daughters had been "spending their summer vacation." However, independent inquiries revealed that the two girls had been staying with the family of Paramjit Singh Raipur, an Akali leader and a close confidant of the SGPC chief.
Though most of people at the SGPC chief's Begowal residence on the outskirts of the village and in the village itself were reluctant to speak to the visiting mediapersons, Bibi Jagir Kaur and Dr Bachan said Harpreet, who had completed her 10+2 (medical) from Shivalik Public School, Chandigarh, last year and was preparing for the medical entrance test, died on her way to Ludhiana at 2.30 a.m. today.
Bibi Jagir Kaur could not tell the exact place of the death of her daughter or where she joined her ailing daughter, accompanied by her younger daughter Daisy and a security man Nishan Singh, but said she had directed Daisy and Nishan Singh to rush to Ludhiana, after they informed her about Harpreet's deteriorating condition "due to excessive vomiting" at her Sector 39 residence in Chandigarh at 1.30 a.m. "Daisy told me about the condition of Harpreet, which was enough for me to rush to Ludhiana after issuing necessary instructions to Daisy and Nishan Singh. But she collapsed on way to hospital," said Bibi Jagir Kaur, who was sitting in a corner of her "dera" along with a number of relatives and mourners. On the contrary, sources said she died after reaching a private hospital in Ludhiana.
"Only last night Harpreet contacted me on my mobile phone at about 11 p.m. and said she was suffering from vomiting and loose motions but I could never visualise she was so serious. Anyway, she was His (God's ) gift who has taken her back," an apparently undaunted Bibi was seen telling visitors whom she was offering tea with folded hands.
While Dr Bachan and Mr Nirmal Singh, a brother of Bibi Jagir Kaur maintained that Harpreet had been with a "family friend" at Phagwara, Harsurinder Singh, an SGPC member who had accompanied Bibi Jagir Kaur and her daughters to South Africa said the deceased had been staying at Phagwara for the past four days. When questioned as to why the body of Harpreet was not sent for post-mortem, Dr Bachan and the SSP, Kapurthala, Mr Iqbal Singh, said there was no need for that as it was a "natural death". "So many people die of natural death and post-mortem is not conducted on all of them," said Dr Bachan. Similarly, Mr Iqbal Singh ruled out the possibility of any foul play in the incident. While he was unable to tell exactly where Harpreet died, he said it was not mandatory for the police to send every dead body for post-mortem unless there was some complaint from any quarter.
Mr Balkar Singh, in charge of the Bholath police station said it was a case of natural death and there was no need to get the post-mortem conducted. "She was not a government employee and had not been admitted to any hospital," he said. "We would have been booted out by the dera people had we insisted on post-mortem," commented a number of policemen accompanying him.
Talking about the nature and temperament of Harpreet, almost all mourners, including Dr Bachan and Mr Nirmal Singh said she was too mellow and a sweet child and had a good rapport with residents of the village.
The cremation of Harpreet took place here at around 10 a.m. The Punjab Chief Minister, Mr Parkash Singh Badal, acting Akal Takht Jathedar, Jathedar Joginder Singh Vedanti, Golden Temple Head priest, Giani Mohan Singh, Akal Takht Head Granthi Giani, Bhagwan Singh and a number of Punjab ministers were among thousands of people who attended the cremation. Antim ardas would be held on April 27.