ESOME carries a touch of divinity. According to Dr Anand Swami,"Years ago I saw a vision, during my long meditation, with ESOME engraved on a white sheet. I consulted dictionaries and several intellectuals but failed to find the meaning of the abbreviation ESOME." Prolonged debates with several saints ultimately led to the truth, and, for him, ESOME stands for Lord of the Trinity. "The letters ES stand for Lord and OM represents the Trinity."

Dr Swami believes that one can perform miracles if divine power is combined with the power of the herbs. Those who are seen touching his feet or prostrating in front of him in thanksgiving are a living testimony to his healing touch.

The parents of Pawan Singh, a young man from Jammu, nurse a strong hope that their son would be all right. Pawan Singh is a serious case of palsy. His legs and arms are totally paralysed. When he was brought to Dr Swami's temporary ashram at Charan Padukan in Katra his body was cold and his eyes looked vacant. He massaged his body with a herbal balm. Within a short time, Pawan's body perspired. It became warm. His eyes sparkled. "I am sure he will recover despite doctors having given up on him," Dr Swami says.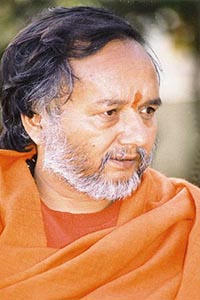 For another resident of Jammu, Sher Singh, the ordeal of consulting cardiologists and undergoing tests is over. He was suffering from a severe heart ailment. He says, "I received treatment from Dr Swami for one week. I am fit and doctors have declared that I have no heart ailment."
Pandit Gopal can be seen pressing Swamiji's legs with devotion. He has a reason to be grateful to him. For five years, the pain in his liver and abdomen could not be cured by doctors. It "vanished within one week of Dr Swami's herbal treatment."
Ten days ago, Preeti, belonging to a well-to-do family, visited the Ashram. She was pale and emaciated because her haemoglobin level was 5 gm/dl. Dr Swami gave her four doses of an ayurvedic medicine. Within one week, the haemoglobin level, recorded by two clinical laboratories, was 11 gm/dl.
Several disciples of the Dr Swami, including Dr Anil Singhal, a known neurologist, and Dr Achala Singhal, a noted cardiologist, refer to the case of a 19-year-old Chandigarh girl, Shalini. According to them, Shalini suffered from acute cirrhosis of liver. Dr Anand Swami's treatment gave a new lease of life to her. She is physically fit now.
Usha Pandit and her daughter are crazy about the Swami. Both of them suffered from pain in their legs andshoulders. The mother had developed lumps below the knees. A week's treatment suggested by Dr Swami has relieved them of their pain.
These successes have given him confidence in the power of ayurvedic medicines. One thing peculiar about him is that he prepares the formula for making herbal medicines. These medicines are given to an institute in Dehradun where they are prepared in the form of capsules. Dr Swami is not interested in patenting his formulae because he fears that drug companies may spoil the efficacy of the herbal medicines through adulteration.
When Dr Anand Swami goes back to New York, he would pursue his research on controlling AIDS and reversing the coma factor. He claims that he has already developed herbal treatment for AIDS but he would have to make it more effective and result-oriented. He has given the anti-AIDS medicines to a number of patients. Ranjna, an 18-year-old girl, had been declared an HIV positive case. She was brought to him and within a month she has shown considerable improvement. Later she disappeared, possibly because she did not want to face the social stigma associated with AIDS in India.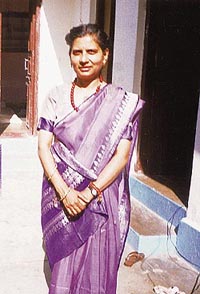 Therefore, Dr Swami has decided to carry on his research on AIDS patients in the USA where AIDS-infected people do not conceal their problem. This would be his major project. He would also evolve a foolproof treatment for bringing patients out of coma.
He has plans of setting up a herbal research centre at Charan Padukan in Katra where he performed a 15-day Chandi Mahayajna. People in the area are so impressed by the saint that they have decided to donate the piece of land on which the yajna was performed to him. Dr Anand Swami says, "The Trikuta hills have lot of herbs. I would collect these herbs and conduct research on them in the centre."
The State of New York has approved his project of giving herbal treatment to mentally retarded and physically disabled people at the ESOME International Foundation. The centre at New Jersey would be converted into a natural healing centre.
In order to run the ESOME International Foundation on a scientific basis, he has constituted a 10-member board of directors with himself as its president. Five eminent doctors are members of the board.
It is because of Dr Swami's spirit of selfless services that Dr Anil Singhal and Dr Achala Singhal have left their lucrative practice in New York. They now help Dr Anand Swami to promote the use of ayurvedic medicines. The Singhals have moved from materialism to spiritualism and they serve people with the herbal medicines prepared by Dr Swami. Dr Singhal says, "We have faith in ayurvedic medicines prepared by him. We only depend on allopathy as far as conducting clinical and other tests are concerned."
Dr Anand Swami has a message for the people of the world. He says that they should help the ESOME International Foundation in any way they can because helping the mentally retarded and physically disabled persons is the best form of worship.