Bing Crosby - 20 Golden Favourites (Times Music) «««
Borrowing his name from a comic strip character called The Bingville, Bing Crosby represented easy and comfortable vocal entertainment in 1930s till his death in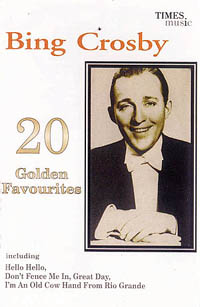 1977. He did not sing soft simply because that's what he did best, but because his music showcased his inner being. In his entire music career, Bing was never associated with any crime, alcoholism, mafia or relationships. In his career, Bing made 120 albums. His audience clustered around large wooden radios and responded to music that was so seductive, mellow and informal. Bing Crosby was always very choosey about his writers. Eventually he had the pick of the best writers, including
Irving Berlin, Johnny Mercer, Harry Warren and Dorothy Lamour. Even the gloomiest track Don't Fence Me In is performed in a charming manner. Undoubtedly pre-rock n' roll pop didn't get any better than the airy swing he brought to the musical world. His magic reflects on tracks like I'm An Old Cowhand, From Rio Grande, Deep in the Heart Of Texas, Mary (What Are You Waiting For), If I Knew You Were Coming I Would Have Baked You A Cake, You Gotta Start Each Day With A Song and May The Good Lord Bless You And Keep You.
Cotton Mary — Original Soundtrack (Times Music) ««
Directed by Ismail Merchant, Cotton Mary is a dramatic film that is set in the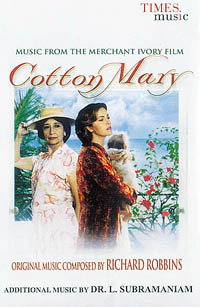 backdrop of post-colonial India of 1950s. It is about two Anglo-Indian sisters in Kerala. Cotton Mary throws light on the individual identities of English and Indians. The movie does not only have a glittering star cast, including Madhur Jaffery, Greta Scacchi, Neena Gupta, James Wilby and Laura Lumley, but also has an equally impressive music score. Composed by Richard Robbins with additional vocals by violin
maestro and now fusion guru Dr L. Subramaniam, the music fits the film very well. Other than the original score the soundtrack also includes golden hits from Hindi cinema Babuji Dheere Chalna and Ye Lo Main Hari Piya. The tracks worth listening to are God's Child, Mary Arrives At The House, Mary Dresses And Goes To Town and Lily and the children Leave. However the highlight remains Prayer a soothing instrumental on Raag Chandrapuria.
Jessica Simpson — Sweet Kisses (Sony Music) «««
At the time when the entire world is drooling over Britney Spears and Christina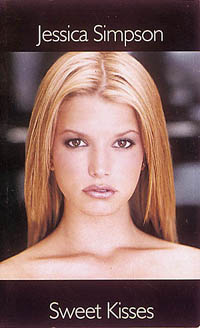 Anguliera, Jessica Simpson manages to make a mark with her debut album Sweet Kisses. Already an established star in the Christian music world, where she often appeared on bills with Kirk Franklin, Jessica took this album as a challenge. Sweet Kisses is a testament to Jessica's greatest attribute — her ability to mould melody with her mellifluous voice. The album is not only about teeny bop rhythms, it means meaningful music. Jessica's vocal buoyancy turns her first single I Wanna Love You Forever into a passionate love ballad, written and produced by Sam Watters (Color Me Badd) and Louis Biancanella (Mariah Carey). Where Are You is another heartrending track where Jessica collaborates with 98 Degree's Nick Lachey. It is a spiritual track which talks about universal feelings. Co-written by Jessica, Heart Of Innocence offers beautiful lyrics. Woman In Me features Destiny's Child addressing issues of self-esteem and self-worth. The music possesses Jessica's trademark chameleon vibe, making it sound right anywhere you like.
Album of the month
Pop Hits — Various Artists (Sony Music)
This is the guru of all pop compilation albums. This two volume set offers a comprehensive collection making it a collector's items. It's got all. Volume one features mega-hit tracks like Dream On by Aerosmith (1973). Play That Funky Music by Wild Cherry (1976), Boogie Nights by Heatwave (1976), Just The Way You Are by Billy Joel (1977), Shake You Body (Down To The Ground) performed by The Jacksons (1978), Hungry Heart by Bruce Springsteen (1979), Ebony & Iuory by Paul McCartney and Stevie Wondel (1981). Rosanna by Toto (1982), Girls Just Wanna Have Fun by Cyndi Lauper (1983) and Billie Jean by Michael Jackson (1982).
The second volume includes Careless Whisper performed by Wham (1984), Terence Trent D'Arby with Wishing Well (1987), Gloria Estefan and Miami Sound Machine with Anything For You (1987), We Didn't Start The Fire by Billy Joel (1989), How Am I Supposed To Live Without You by Michael Bolton (1989), New Kids On The Block With Step By Step (1990), Michael Jackson with Black Or White (1990), Des'ree with You Gotta Be (1994), Because You Loved Me by Celine Dion (1995), Sunny Come Home by Shawn Colvin (1996), Mariah Carey with My All (1997), Gettin' Jiggy With II Performed by Will Smith (1997) and Doo Wop (That Thing) by Lauryn Hill.
— Saurabh & Gaurav
The Grrr…eat Music Zone Quiz

1. What was the original name of salt-n-Pepa?

2. Name the latest album by Elton John?

3. Name the drummer of Garbage?

4. Who was the first singer to record an album with Pantera?

5. Name the singer who released Cowgirls Get The Blues?

6. Which member of Bad Company had played with King Crimson?

7. Name the famous band that recently revealed that they are the targets of an "armed and dangerous" stalker in Dublin?

8. Which movie soundtrack did Rem lately sang for?

9. What is the second name of Natalie Imbruglia?

10. What are Anthony Kiedis, John Frusciante, Flea and Chad Smith together known as?

Answers

1. Supernature
2. Road To El Dorado
3. Butch Vig
4. Terry Glaze
5. KD Lang
6. Boz
7. U2
8. Man On The Moon
9. Jane
10 Red Hot Chilli Peppers

Top 10 singles
1. Then You Look At Me
Celine Dion
2. American Pie
Madonnaçè
3. Dear Lie
TLCé
4. Feelin' So Good
Jennifer Lopezê
5. Show Me The Meaning
Backstreet Boysçè
6. Bye Bye Bye
N' Syncl
7. It's Only Us
Robbie Williamsé
8. Don't Wanna Let You Go
Fiveé
9. Still
98 Degreesçè
10. Temperamental
Everything But The Girll
Legend: éClimbing up êFalling Down çèNon-Mover® New Entry


This feature was published on April 1, 2000