Shiv Kumar Batalvi
(October 8, 1937 — May 6, 1973)
HE was barely in his mid-thirties, but the end was nigh for Shiv Kumar Batalvi. For quite some time, his friends had been noticing that his otherwise fair skin was growing darker by the day. Excessive drinking had finally taken its toll. As friends and relatives watched in silence, fearing for the worst, the poets words rang in their ears: Jadon meri arthi utha key chalan gey . . . It was a sad end to a poet who, according to Amrita Pritam, was the 'darling' poet of Punjab.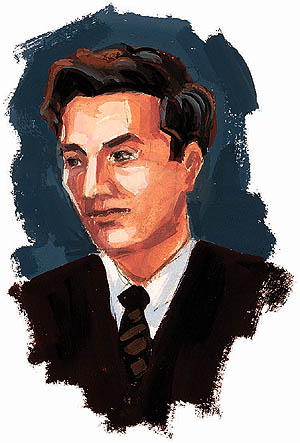 Shiv Kumar Batalvi, the poet who literally dominated poetic gatherings in his short life, was born in Bara Pind Lohtian, (now in Pakistan). There is some confusion about the date of birth. While some scholars believe that he was born on July 23, 1936, others say that he was born on October 8, 1937. His parents, Pandit Kishan Gopal and mother Shanti Devi had to leave their village after Partition. The family chose to make Batala their new home, and Pandit Kishan Gopal continued to make a living as a patwari.
Shiv Batalvi did his Matriculation in 1953, and tried to do FSc from Baring Christian Union, Batala, but he failed to pass the examination. The young man was more interested in softer emotions than the composition of hydrogen or the laws of gravity. He would spend all his time with his friends. Somewhere along the line, he met Barkat Ram Yuman, and became his disciple. Pandit Kishan Gopal was very unhappy with his wayward son. Using his own influence, he somehow got Shiv a job as patwari. But if he hoped that the job might bring about a change in the errant son, he was mistaken. Shiv continued to let his heart rule his mind, and lived for a while in Qadian before finally moving to Chandigarh in the late 60s.
As his popularity grew in private mehfils, he saw the publication of his first book, Peerhan da Praaga, in 1960. It became an instant success, assuring Shiv Batalvi a permanent place among the great Punjabi poets. When the readers demanded more, the poet obliged them with a string of highly acclaimed books: Lajwanti, Aate diyan Chiriyaan, Mainu Vida karo, Birha tu Sultan, Dardmandaan diyan Aahaan, and his epic masterpiece Loona. The last mentioned book took him to the pinnacle of glory, and finally crowning him with the Sahitya Akademi Award.
After coming to Chandigarh, he joined the State Bank of India, Sector 17 as a PRO. Since he hardly showed any interest in office work, he was made librarian. The booths opposite the Kiran Cinema were his favourite haunt, and he could be seen with his friends there every evening after a 'hard day' at the Bank.
Shiv used to recite his poems in tarannum, and those who have been fortunate enough to have heard him say that although many great professional singers have rendered Shiv Batalvi's songs, none of them bettered the poet's own style of recitation.
Writer Mohan Bhandari, one of Shiv Batalvi's closest friends believes that as a lyrical poet, Shiv Kumar Batalvi has no equal in Punjabi literature. There was something extraordinary about his diction, his metaphors, his imagery, that he could paint a verbal picture of whatever he was writing about — a picture so vivid and real that people have his poems on their lips; no other poet can boast of such popularity. He was a hot favourite at Kavi Sammelans.
Reminiscing about old times, Bhandari continues: "Shiv used to often say that he was going to die soon . . . . Asaan taan joban rutey marna . . . . Kabraan udeekadiyan . . . . and so on. We never took him seriously, because we used to think that he was joking. And when I heard that he was gone, I couldn't believe it. I took a rickshaw and went to the Sector 22 market, in the hope that the news was nothing but a hoax, and that I would find him sitting there in one of the shops. I waited in vain for hours for that most colourful of our poets to turn up. I could never really get over his death. Even after so many years, I feel that he might just walk in any moment wearing his motia kameez and white pajaamas and Peshawari chappals."