Commando trouble
Here's one more from the fauji heart. Tujh Pe Dil Qurbaan on Sony every Friday at 10 p.m. is about the lives of officers of the Indian armed forces. Based on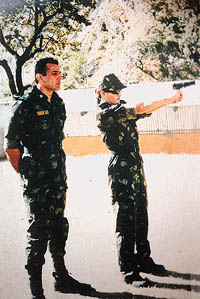 hours of real life recorded incidents of officers of the Indian Army, the serial has been shot in locales as distant as the North-East and has plans to go to places like Rajasthan, Dalhousie, Belgaum and down south.
It revolves around a commando training centre where officers are trained for key posts in sensitive war-prone areas. But more than training for war, most of the young officers are preoccupied with their own troubles.
Lt. Sunil is worried about his girlfriend who's playing hard to get; Lt. Iqbal seeks revenge from an officer who "destroyed" his brother's army career and Captain Aseem, is a sensitive poet pining away for the girl of his dreams.
In the midst of all this, comes up a sudden, dangerous mission. Will these officers, troubled by their own agonies, be able to face the challenge? Watch Tujh Pe Dil Qurbaan for the answer.
Gaate Hain Shaan Se...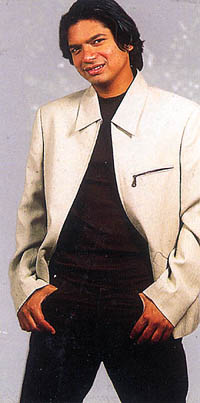 At first glance he would pass off as a college student. But look closer. He's 27 and already has several hit albums to his credit.
Meet Shantanu Mukherjee or simply Shaan. He's come a long way in his musical career. And the recent release of his second solo album Tanha Dil is a testimony of his hitting big time. The video of the title track is now a top ten number on all music channels.
Released by Virgin Records the album is a new career turn for Shaan — from frothy pop-tunes to romantic melodies. He has finally graduated from a teenybopper of Lovelogy — his first solo album — to a mature Tanha Dil.
It is a collection of eight songs penned by Shaan himself. He has also scored music for four tracks. "The video of the album is very close to my heart and I have put my best effort to make a success of it," says Shaan.
What with Bollywood signing offers pouring in after he sang the hit song Musu Musu Hasi.. from Pyar Mein Kabhie Kabhie and the title song of Dillagi, Shaan is turning out to be a musical prodigy in his own right.
Wild adventure
This is a culmination of 13 years of wildlife film making. The Lions of Darkness on the National Geographic Channel on May 4 at 9 p.m. presents an intimate and intriguing chronicle of male lions in the wild.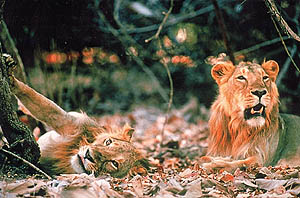 The film is a result of almost three years in the thick jungles shadowing three powerful male lions who are in the process of making a new home for themselves in the Savuti region of Botswana.
The film-makers follow the ferocious trio, carefully documenting on hidden cameras their domination of territory, the birth of cubs, and the struggles for survival as the lions face the harsh African wild.
A fascinating film on the life cycle of the most powerful animal known to man.
Chip of the old block
When he stepped into his illustrious father's shoes, connoiseur's said that he had the makings of a great musician.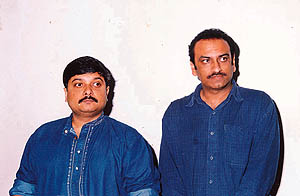 But after giving music for serials like Malgudi Days, Swabhimaan, Pandit Jasraj has decided to carve a new niche for himself on TV.
Alongwith Chandigarh's Sanjeev Wadhwa, Sharang has now hit box office gold with Darr every Tuesday at 10 p.m. on Star Plus. "Nothing like this has been attempted on TV before," says he and adds, "This is not a regular thriller. It is more an attempt to probe the mind of a twisted killer."
Sharang's haunting background score adds an extra edge to the serial. The musician-turned-serial maker says he wanted the title music to have an immediate recall value.
"This is just the start and we have many more projects lined up," says Sharang. One a spiritual travelogue for the young who he feels have been alienated from India's religion and heritage because of the increasing foreign influence. Om Shanti Om!
— Mukesh Khosla