Thursday, May 4, 2000,
Chandigarh, India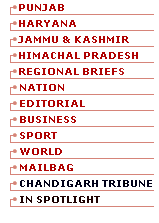 M A I N N E W S
13 hostages rescued
ZAMBOANGA, (Philippines), May 3 (AFP) — Thirteen children among 27 Filipinos held hostage by Islamic rebels for over 40 days have been rescued in the southern Philippine island of Basilan, Defence Secretary Orlando Mercado said today.
"It is confirmed that 13 have been rescued from the 22 children hostages in Basilan," Mercado said in a live radio interview monitored in this southern city.
"The military believes that as they (the rebels) retreat, the others will also be rescued.
The rebels had fled from a mountain base following a government offensive that led to its capture.
Earlier, today an Abu Sayyaf spokesman offered to free all 27 Filipino hostages if the military ended a week-long siege of their Basilan camp.