Joe Satriani — Engines Of Creation (Sony Music) «««
Joe Satriani is certainly one of the most celebrated and accomplished guitar players of the last decade. What sets Satriani above every guitar virtuoso isn't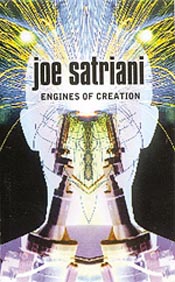 his ability to play clean chops — his guitar compositions are complete songs in themselves. Engines Of Creation is a massive compendium of rarities, new material and cutting-edge. The album represents a new level of rhythmic achievement employing several altered guitar riffs, vast electronic textures and varied compositional gestures. The opening track Devil's Side is a meticulous effort superimposed with modernised grooves and sub-Goldie jungle rhythms. Bong Sex and Slow and Easy are typicial Satriani works. Until We Say Goodbye is a surprise packed track featuring bass work by noted guitarist Pat Thrall and drumming samples of 'Late Show with David Letterman's' Auton Fig under the production of Kevin Shirley (Aerosmith, Black Crowes). Clouds Race Across The Sky weaves a dreamy backdrop of his unlimited harmonic flights. Some of the tracks worth checking out are Flavor Crystal 7, Champagne? and The Power Cosmic 2000 part 1 and 2. A remarkable effort.
N'Sync — No Strings Attached (HMV) ««
No Strings Attached is N'Sync's bid to reposition itself for the new teen-pop millennium. This 12-song collection's release was delayed after this Florida-based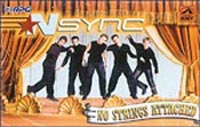 boy band got tangled in litigation with its previous label and manager. Throughout this follow-up to their self-titled '98 debut, N'Sync tries to come off the boys next door image, scaling back their syrupy soul-pop beats and party-hearty anthems. Bye Bye Bye is already a smash hit that packs a decent pop punch, lacing its peppy harmonies with a dark and sinister edge. Spacey Cowboy title lifted from a Steve Miller chestnut — offers soulful electro-disco groove. Just Got Paid (produced by Teddy Riley), Bringin' The Noise and Digital Get Down are real Friday night goers. This I Promise You, When I'II Stop Loving You and I Thought She Knew prove that the band has not lost its gentle touch. Maturity alert. This is N'Sync with an edgier effect.
Album of the month
Youssou N' Dour — Joko — From Village To Town
(Sony Music)
The Senegalese singer hits back with probably his best work so far. The result here is a confident album rich in ideas and rhythms. The fusion of western and African music is so remarkable that the dividing lines appear near to nothing. His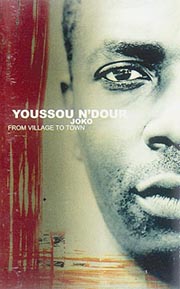 song writing and arranging skills displays a total assimilation of both forms. His winning formula here is the ability to experiment. He has the knack of taking the most unlikely combination of sounds, instruments and styles, and arranging them into an awesome piece of music. The songs are sophisticated, inspirational and instantly memorable, ranging from the furiously compelling Liggeey to the melodic Wiri-Wiri, inspired by the work of Senegalese musician Henri guillabert (of band Xalam). Red Clay is a stirring track that talks about the Senegalese soil. Please Wait preaches us about the drawbacks of material possessions in life. The album also offers various collaborations with prominent musicians which include Don't Walk Away featuring Sting, The Dream with Peter Gabriel, How Come with Wyclef Jean and Birima (Remix) featuring Wyclef Jean and Marie-Antonette aka Free. The highlights of the album remains a cover of Smokey Robinson's Don't Look Back produced by Jean and the guitar-driven She Doesn't Need To Fall. It would be an injustice to categorise Youssou's music into one particular music form. His music is a revolution — to be better known as Youssounism.
— Saurabh & Gaurav
The Grrr…eat Music Zone Quiz

1. Name the debut album by British quartet Jesus Jones.

2. Name the U.S. President who appears in two Billy Joel songs.

3. Which 60's group besides Steam Rocket did Elton John play keyboards for?

4. Which rap group is Juvenile a main member of?

5. Who was Judas Priest's first studio drummer?

6. Name the artiste who read out the text from the Bible in lrish Gaelic on Sinead O'Connor's first album.

7. What was the name of Simon, Oscar and Damon's band before they became Ocean Colour Scene?

8. Name the movie in which Danny Elfman of Oingo Boingo played a devil.

9. What is Liam Gallagher's (Oasis) middle name?

10. Prior to creating The Offspring, Dexter Holland was the member of which band?

Answers

1. Liquidizer
2. Dwight D.Eisenhower
3. T-Rex
4. Hot Boys
5. John Hinch
6. Enya
7. The Fanatics
8. The Forbidden Zone
9. Francis
10. Manic Subsidal

Top 10 singles
1. American Pie Madonna
2. Then You Look At Me Celine Dion ê
3. Bye Bye Bye N'Sunc é
4. It's Only Us Robbie Williams é
5. Don't Wanna Let You Go Five çè
6. Temperamental Everything But The Girl é
7. Feelin' So Good Jennifer Lopez ê
8. Tanha Dil Shaanl
9. Show Me The Meaning Backstreet Boysê
10. Still 98 Degrees çè
Legend: éClimbing up êFalling Down çèNon-Mover® New Entry