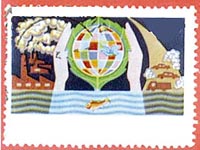 1. Identify the stamp.

2. When was it issued?

3. In what denomination was it issued?

4. What was the purpose of issuing the stamp?

5. What is the monetary unit of Mauritania?

6. If a stamp bears the name Nederland, can you tell the name of the country which has issued it?

7. Which is the first country to issue stamps with inscriptions in two different alphabets?

8. Which alphabets were used to depict the values?