Follow the leaders
Here's one more show about the rich and the famous, the bold and the beautiful, the young and the restless. About the Mathurs, Parekhs and the Tejanis.
Though Nazdeekiyaan is a new daily afternoon serial on Sony TV there is nothing really new or novel about the theme. Like a dozen-odd other soaps this too is about relationships, romance, rivalry and the intricacies of human nature.
The story is based on three rich families — Mathurs, Tejanis and Parekhs and their happiness, sorrows, trials and tribulations.And if you find any shades of the Singhanias, Ajmeras, Thakurs and Malhotras of Swabhimaan, Shanti or Junoon, it's just because soaps have come to be defined by such families.
Favourite cartoon mom
Move over kids, it's Mama's day at Cartoon Network on May 14. To celebrate this special day, Johnny Bravo is inviting all Indian kids to vote for their Favourite Cartoon Mom contest.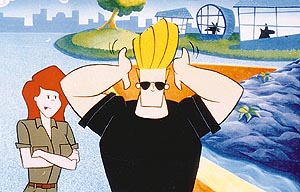 The five contenders for the Favourite Cartoon Mom position are Wilma Flinstone,Betty Rubble, Jane Jetson and moms of Dexter and Johnny Bravo. Kids have to vote for their favourite toon mom.
In addition to the on-air solicitations for the Hey Pretty Mama contest, Johnny Bravo, Dexter and Dee Dee will go to select hangouts in big cities to personally solicit responses from children.
One lucky winner will win a free dinner for his or her mother and two family members at the best restaurant in town. Flowers and gifts for the winner's mother will be delivered at the restaurant by Johnny Bravo himself. There also will be 300 runners-up gifts.
Zooming in on big cats
This May, travel with the National Geographic Channel for a wild' India experience in Wild India. On May 8 at 10 p.m. walk into the dense rainforest in search of the majestic king of the jungles appropriately nicknamed the Royal Bengal Tiger.
The thick rainforests of India, known locally as the sholas, provide homes to fire ants, elephants, pythons, giant squirrels wild cattle and scores of other species.
Take a journey to India's Gir National Park, the last remaining haven for lions.And hear how the government is working with conservationists and tribes in order to cope with the rising cat population which is causing a conflict with humans. A stunningly photographed documentary which showcases the both the efforts of conservators but also the inherent problems which have beset the preservation of wildlife in India, specially of the big cat variety.
— Mukesh Khosla