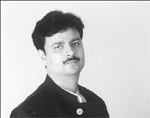 Music machine of Indi-pop
By Mohit Goswami
From the by lanes of South Delhi to the pinnacle of Indi-pop — Jawahar Wattal has come a long way. Despite a degree in management, he decided to pursue a career in music — his passion — a bold decision. Delhi offered no avenues for this 21-year-old to fulfil his dream, still he persevered.
Jawahar set up Adcamp, a 24-track state-of-the-art digital recording studio. Starting with jingles — Adcamp produced over 3,000 jingles — he went on to score music for countless plays, television serials and ad films.
Talking about his early days, he says his struggle and sacrifice are for posterity. It all came naturally, with grace, he adds. "Music is a state of mind," he says. He remembers following a baraat band to a marriage function in his childhood. The music just drew him, like a magnet.
Jawahar made his first foray into Indi-pop with "Dilruba", an album with Baba Sehgal, way back in 1990. He joined the big league in 1994 with "Bolo Ta Ra Ra", the album that launched Daler Mehndi and set the trend for Punjabi pop. Delhi was finally on the music map.
This was just the beginning. This music machine churned out platinum hits year after year. And in the process, he turned Daler Mehndi, Sudeep, Ali Haider, Poornima, Bhupi, Shankar Sahney, Bobby Cash, Hema Sardesai, Ustad Shujat Khan, Sanjay Raina, Shweta Shetty and Shekhar Krishnamoorthy into stars. He also transformed Shubha Mudgal, Hans Raj Hans, Baba Sehgal and Ila Arun with his magical touch.
Despite being a success story, Jawahar has not lost his modesty and humility. He is a straightforward, down-to-earth person who happily remains in the background while the stars he has created enjoy the limelight. "I am not a performing artiste," he says matter-of-faculty. He has been misquoted a number of times but has never resorted to publicity by giving statements.
He devotes practically all his time to music. He does the recording, composing and mixing himself. "Music requires selflessness and service. You need to have a good ear. Magic only comes with a free hand. You cannot create it with constraints," he elaborates.
He laments that the music industry in India is not well organised. "Music is still a means of survival in the country. Look at the street singers who move around singing devotional songs. They are good, but to establish yourself, you need luck and good contacts. Music has not reached the high level of professionalism like in the West. Pure talent like Stevie Wonder or Ray Charles could not have established themselves here," he rues.
He feels sad that the rustic elements of Punjabi folk music like "tappa" have not caught the fancy of the industry. He also foresees the decline of classical music. "The classical heritage of the country will remain only as long as the maestros are there. The value system has changed. The guru-shishya parampara is practically dead," he says sadly. "Will there be an environment for the next generation of classical singers," he asks.
Winner of the Channel V Best Composer Award, Jawahar believes that music comes naturally to a person. "Learning and training can only sharpen skills. The talent always comes from within," he states. According to him, the music industry has become too commercialised. "It is like instant coffee nowadays," he says.
The person who has revolutionised the pop music industry in the country does not see any competition for himself in the country. He now aims to go to the West. "A time will come when the West will dance to numbers like Ek do teen... even if they do not understand the language," he claims.
He also has a number of offers to compose music for films. "There is too much of a backlog. After I clear that, I will move on to movies as well — probably later this year," he says. His recording studio in Delhi is flooded with artistes and music company executives. His 52nd album, "Wallah Wallah" with Bhupi, was released recently.
His forthcoming projects are with Suresh Wadkar, Hema Sardesai, Joy Jasbir, Milan Singh, Usha Uthup and Maninder Mahi. The magician continues to weave his spell. Marriage is also on the cards. This handsome eligible bachelor is going to tie the knot soon.