Sisters in blood
Here's a soap with plenty of lather. Actually a thriller in the garb of a soap which grips your attention not so much for the doings of the rich and famous as for its intriguing storyline.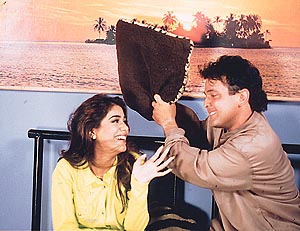 Itihaas on Sony Entertainment Television every Monday at 3.30 p.m. is the story of three sisters who have not acknowledged or spoken to each other for 16 years.
Married to rich men, the sisters are linked by a dark secret. A murder was committed 16 years ago and a person charged for it. But was that the real murderer? How does the murder link the sisters? What are the sisters hiding?
Suddenly, after 16 years, a woman surfaces and rakes up the mystery all over again. And she will not rest until the real murderer is brought to light. She is out to shake the very foundations of these three families in her quest for justice.
Who is this woman and why is she digging up a murky past? How are the sisters involved? More importantly was a wrong person convicted for the murder? All unanswered questions which go to make Itihaas a gripper more than a decadent soap.
Live life with Anand
It's a poignant reflection on life. Star Bestseller Anand on May 24 at 9.30 pm is one of the finest telefilm you would have seen in some time.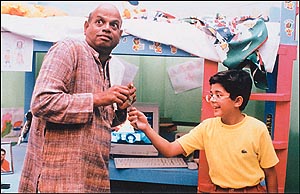 It's about a young boy Anand born with an immunological disorder that forbids him from making contact with the outside world. He is confined to a special room and kept alive by medicines.
But the only thing alive in the room is Anand and his dreams. He dreams of escaping to smell a flower, to taste an ice cream, to play with other kids.
Those around him have one lesson to learn. They have to learn to get away from the shackles that bind them to their conservative worlds and aim for newer dreams and the desire to achieve them.
In his pursuit of happiness Anand fights against his disability. He is convinced the life cannot be limited to the disease that binds him to his room. And he must struggle on. Will he succeed in his battle with destiny? Watch Anand for the answer.
Celebrating in style
Though its popularity may have taken some serious knocks in the last year or so, Close Up Antakshri on Zee keeps celebrating its 'success' in style. For its 350th anniversary, starting first week of May, the music show will have the Taj Mahal as its backdrop. The contestants will comprise all celebrity winners of all the pevious episodes of past five years.
The who's who list will include Anu Malik, Hema Sardesai, Padmini Kolhapure Farida Jalal, Vijeyta Pandit, Shekhar Suman, brother-sister pop duo Shaan and Sagarika and former cricketers, Chandrashekhar and Syed Kirmani.
For a 'people show' this is a somewhat curious choice. Considering that it propheses to be a music-based programme for and of the viewers, those who would be missed would be the ordinary participants who won by their talent alone.
This man talks tough
He may narrow his eyes and talk hard on TV but in real life BBC's Hard Talk man, Tim Sebastian comes out surprisingly amiable despite his towering height and a worrying girth.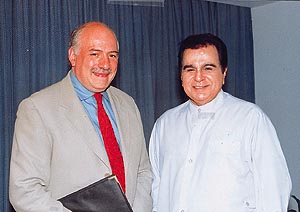 He says he simply loves grilling the sweat out of people he interviews on his BBC talk show which has made him a celebrity himself. Some like him, many don't, but Sebastian's penchant for talking tough is now part of BBC folklore.
On his second trip in a year, Sebastian has been overwhelmed by the viewership his programme commands. "There's an incredible market here," he says and adds that his researchers are already identifying important Indians to be interviewed on his show.
There have been kings, presidents, prime ministers, actors and other VVIPs from across the world five days a week laughing and crying on his shows. There has been occasional bad mouthing and a few walkouts but despite all that, they all come when he calls them. After all, not everyone is invited to Hard Talk.
Mom's the word
This 52-minute wildlife documentary is set in the spectacular Masai Mara in Kenya. It follows two of Africa's greatest predators, the cheetah, the fastest sprinter in the world and the leopard, a master stalker and pouncer.
Perfect Mother, Perfect Predators on May 14 at 10.30 p.m. on the National Geographic Channel follows them through the cycle of the seasons as they raise their cubs in the beautiful but often harsh natural world of Africa.
Watch how these cats teach their cubs to hunt and fend for themselves. The programme includes some spectacular footage as the cubs watch and try to mimic their mothers in different ways.
The cubs join in the hunts and as they reach independence, nature takes its course and the cycle of life begins to repeat again with clockwork precision.
— Mukesh Khosla