IN PASSING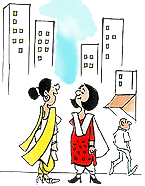 We should feel proud of it. Now our city has five Miss Universes, four Miss Worlds, three Miss Cities, 14 Miss Mohallas...
by Sandeep Joshi
Pak all set for N-test, says paper
ISLAMABAD, May 15 — Pakistan is believed to have made all preparations to carry out its seventh nuclear test in Chagai. Islamabad English daily, The Pakistan Observer said the preparations come in the wake of intelligence reports that "India is all set for hydrogen bomb explosion in Pokhran very soon.''
Paramhans, 12 others hurt in bomb blast
LUCKNOW, May 15 — President of the Ram Janambhoomi Trust, Mahant Ram Chandra Paramhans, two of his security guards and 10 others today received minor injuries when a bomb reportedly kept on a bicycle exploded while he was on a morning walk in Faizabad.
Special trains for minister, MPs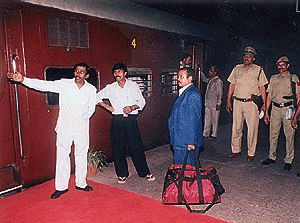 CHANDIGARH, May 15 — Union Railway Minister Mamata Banerjee's love for austerity notwithstanding, Northern Railway ran three special trains between New Delhi and Kandaghat during the past few days to facilitate an exhibition cricket match at Chail in Himachal Pradesh.
EARLIER STORIES
(links open in a new window)
40 feared as bus falls into canal
May 15, 2000
Troops repulse LTTE attacks
May 14, 2000
LTTE signal centre smashed
May 13, 2000
Lankan jets pound LTTE areas
May 12, 2000
Tigers breach army defences
May 11, 2000
Lanka gets arms supply
May 10, 2000
Tipnis in Lanka on 5-day visit
May 8, 2000
Lanka mounts air strikes on LTTE
May 7, 2000
TN CM leaves it to Centre
May 6, 2000
LS passes Finance Bill amid walkout
May 5, 2000