Friday, May 19, 2000,
Chandigarh, India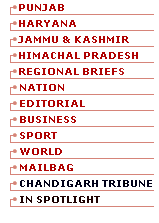 J A M M U & K A S H M I R
Three killed in road mishap
From Our Correspondent
JAMMU, May 18 — Three persons, including two women, were killed when the car in which they were travelling was hit by an army truck near Samba, 45 km from here today.
According to the police the three car passengers died on the spot.
Preliminary inquiries revealed that Gurbinder Singh of Goraya in Jalandhar district was driving along with two women. They were going to Jammu and had left house early in the morning. At Samba the car had an head-on collision with an army truck, killing all the three on the spot.
The police has registered a case and the army authorities in Samba have been informed. The truck has been impounded.

No final view on talks with Hurriyat
May 18, 2000
Bhat's killing "Pak reply to offer of talks"
May 17, 2000
Infiltrators lost without 'guides'
May 16, 2000
8 ultras killed in valley
May 15, 2000
6 killed in J&K violence
May 14, 2000
US officials in Srinagar to meet Hurriyat leaders
May 13, 2000
JCO, 6 militants among 10 killed
May 12, 2000
Talks offer positive step: Mufti
May 11, 2000
Tight security around J&K offices
May 10, 2000