IN PASSING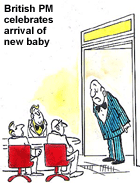 The PM will be with you just as soon as he finishes changing the diapers!
by Sandeep Joshi
States oppose Centre's move
NEW DELHI, May 22 — The majority of states today strongly opposed the Centre's move for a monitoring mechanism on state fiscal reforms to effect a statutory cap on borrowing and expenditure through a Fiscal Responsibility Act.
Agroha medicos left in the lurch
ROHTAK, May 22 — The intervention of the Prime Minister's Office notwithstanding, the Medical Council of India has reportedly declined to approve transfer of students of Medical College, Agroha, to the Pt B.D. Sharma Postgraduate Institute of Medical Sciences here.
MNCs threaten dairy industry
CHANDIGARH, May 22 — "Tera Kya Hoga Kalia"? This has nothing to do with the famous dialogue from "Sholay" film. Here it is being used to describe the sword of Damocles hanging over the great Indian 'kali' (blackie) buffalo, the lifeline of Indian dairy farming.
EARLIER STORIES
(links open in a new window)
NLFT on killing spree, toll 45
May 22, 2000
Cut subsidies, PM tells states
May 21, 2000
Fiji PM, Cabinet taken hostage
May 20, 2000
Lanka ready for talks with LTTE
May 19, 2000
23 killed in Lanka blast
May 18, 2000
Bill on devolution of taxes passed
May 17, 2000
J & K minister killed in landmine blast
May 16, 2000
40 feared as bus falls into canal
May 15, 2000