IN PASSING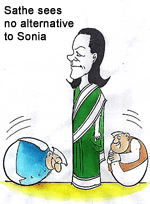 We will have to change the followers, the leader is OK!
by Sandeep Joshi
Cabinet expansion this week
NEW DELHI, May 25 — The Union Council of Ministers will be expanded by the weekend, the Prime Minister, Mr Atal Behari Vajpayee, said today.
Lathi charge on farmers, cops stoned
BATHINDA, May 25 — A mild lathi charge at two places by the police on the activists of five farmers' organisations and workers of political parties and pelting of stones at the police by the protesters marked 'chakka jam' agitation in this region today. Few protesters were injured in the lathi charge in Muktsar district.
Rupee touches all-time low
NEW DELHI May 25 — The government today said it was for the RBI to take necessary steps to stabilise the rupee, which touched an all-time low against the US dollar today.

First night sortie to Thoise
CHANDIGARH, May 24 — Night sorties over the rugged Himalayas may not be new to the IAF, with training and terrain familiarisation sorties by transport aircraft to airfields located in the Northern Sector being undertaken in the past. But Operation Vijay in the Kargil Sector last year has given an impetus to operational night flying for carrying out air maintenance to support Army formations deployed along the Line of Control.
EARLIER STORIES
(links open in a new window)
India, USA oppose Tamil state
May 25, 2000
India ready to evacuate Lankan troops
May 24, 2000
10 more companies for Tripura
May 23, 2000
NLFT on killing spree, toll 45
May 22, 2000
Cut subsidies, PM tells states
May 21, 2000
Fiji PM, Cabinet taken hostage
May 20, 2000
Lanka ready for talks with LTTE
May 19, 2000
23 killed in Lanka blast
May 18, 2000
Bill on devolution of taxes passed
May 17, 2000
J & K minister killed in landmine blast
May 16, 2000