As a great patron of the performing arts, the 'Lion of Punjab' maintained a troupe of 150 beautiful dancing girls and entertained his guests with gorgeous nautch parties. W.G. Osborne, who accompanied Governor-General Auckland to Ranjit Singh's court at Lahore, recalls in his journal an interesting conversation with the Maharaja about these beautiful girls. "How do you like them", asked Ranjit Singh, "Are they handsomer than the women of Hindostan? Are they as handsome as English women?" Osborne replied that he admired them all very much and named the two he thought were the handsomest. Emily Eden, the sister of Auckland who also accompanied him to Lahore, was invited to meet the Ranis. She was struck by their beauty and grace and wrote that "Four of them were very handsome. Two would have been beautiful anywhere".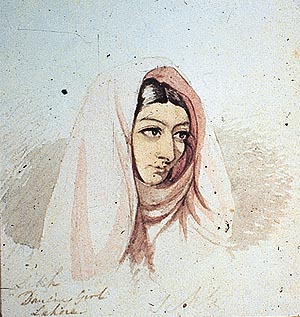 Sher Singh's wife is also described as really beautiful, "very little, very fair with enormous black eyes, and a pretty, clever expression". Henry Stenbach a German soldier with the Maharaja pays a glowing tribute to the valour, daring and fortitude of the Ranis of Ranjit Singh as they performed sati on his death. In his vivid description of the event, he wrote: "His four queens dressed in their most sumptuous apparel, then followed, each in a separate gilt chair... Before each of the queens was carried a large mirror, and gilt parasol, the emblems of their rank...To the last moment of this terrible sacrifice, the queens exhibited the most perfect equanimity; far from evincing any dread of the terrible death which awaited them, they appeared in a high state of excitement and ascended the funeral pyre with alacrity".
Until the middle of the 18 century, there was practically no visual record of the Indian people based on first hand observation. The British artists who began arriving in India from the 1760 onwards mostly applied their talent to landscape painting, portraits of the ruling elite and Indian princes or historical events of imperial interest. But there were some, both professional and amateur, who were inspired by the exotic people of India, especially native women. These artists have left behind some paintings and drawings of native women of different classes. There were also Indian artists patronised by the British. They imbibed some of the western techniques and adapted their painting style to meet the taste of their patrons. There is an enormous collection of their drawings in different museums and galleries in India and abroad and these are defined as 'Company school' paintings. The British officials and travellers employed local artists at Lahore and Amritsar to make drawings for them depicting famous monuments of Punjab and also the local people. Punjabi women, however, hardly figure in this collection.
Among the notable British artists who visited Punjab in the 19th century and have left behind valuable collection of their paintings and drawings were G.T. Vigne, A.F.P. Harcourt, H.A. Oldfield, C.S. Hadinge, and William Carpenter. Their works chiefly depict Punjab's picturesque landscape, historical monuments etc. Even Emily Eden, an accomplished artist who had an access to the Royal zenana, did not portray any Punjabi ladies in her monumental work, 'Portraits of the Princes and people of India' which include magnificent paintings of Ranjit Singh, his sons and other Sikh personalities. Some artists did succeed in making sketches of women of the Punjab hills who were neither shy nor followed the purdah custom. The Punjabi women of the plains observed strict purdah and would not expose themselves to any male artists, whether foreign or native.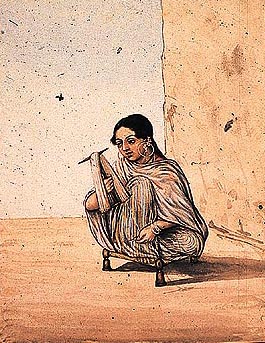 There are practically no true to life pictures of Punjabi women of the upper classes. There is one by a local artist of Maharani Jindan who had come out of the veil to become the regent of Duleep Singh. The only women who readily agreed to pose for artists were public entertainers and dancing girls, and those belonging to lower working classes in exchange for monetary reward. At times, the artists were able to sketch village women as the rural purdah custom was not prevalent in rural areas.
It is observed that Punjabi women were particularly fond of jewellery. A variety of ornaments made by highly skilled craftsmen were worn from head to toe. Emily Eden describes in her journal the gorgeous costumes and ornaments worn by the royal ladies at Lahore. She wrote:
"Their heads look too large from the quantity of pearls with which they load them and their nose-rings conceal all the lower part of the face and hang down almost to the waist. First, a crescent of diamond comes from the nose and to that is hung a string of pearls and tassels of pearls and rings of pearls with emerald drops". Their dress consisted of silver gauze veils, tinselly tunics and very tight trousers.
After the advent of camera, commercial photography rapidly replaced painting by professional portrait artists. Here again, when it came to Punjabi women, they did not want to face the camera wielded by a man. It is only after the spread of education and emancipation of
Indian women in the 20th century that the old taboos of purdah and seclusion were slowly discarded. I still recall that considering the market potential in this field, an enterprising Punjabi lady in Lahore set up a special photo studio for women, sometime in the late 1930s.