Madan Lal Dhingra
(c. 1887 — August 17, 1909)
BORN into wealth and luxury, he could have lived a very comfortable life, and yet he gave it all up and took the difficult path of revolution.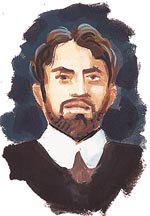 Madan Lal Dhingra's father Sahib Ditta Mal chose to settle in Amritsar after he retired as Civil Surgeon. Young Madan Lal went first to Municipal College, Amritsar, and then to Government College, Lahore, but he was under pressure from his father to give up his education to devote time to the family business. But as it turned out, Madan Lal ended up going to England in 1906 and getting himself enrolled in University College of Engineering. Once there, he came under the spell of the firebrand Vinayak Damodar Savarkar and Shyamji Krishnavarma.
His activities soon attracted the attention of the Scotland Yard. The Yard, brought it to the notice of the British Government that Indian revolutionaries, under the directions of Savarkar, were planning to assassinate the former Viceroy, Lord Curzon, and the Secretary of State for India, Lord Morley.
And the Scotland Yard were right. The man Savarkar chose for the mission was one of his most zealous revolutionaries, Madan Lal Dhingra. Apart from Lord Curzon and Lord Morley, there was on the hit list one Sir William Curzon Wyllie who in particular had become very unpopular with the revolutionaries. On July 1, 1909, Madan Lal waited for his targets at the Institute of Imperial Studies, London. As Wyllie arrived at 11 p.m., Madan Lal fired at close range and Willie fell back dead.
Madan Lal then surrendered himself, but refused to have himself defended. He believed that he had killed one of the representatives of an oppressive regime, and had thus done his duty towards the struggle for freedom. He was hanged on August 17, 1909.