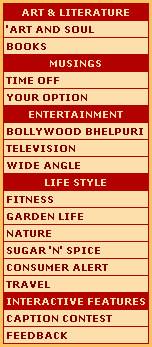 Sunday, May 28, 2000
Article

What makes Govinda tick?
By Raj K. Machhan
A STRIKING red shirt, tight yellow trousers and white leather shoes. Is it a walking billboard? Perhaps a conspiracy to undermine the standards of dressing set by high priests of fashion? Well, it's simply Govinda at work who has emerged as one of the most bankable stars in Bollywood. "Crass comedy, bawdy lyrics, showpiece of a heroine" is the standard line used to describe a typical Govinda flick. In spite of this all-encompassing criticism, Govinda can rightfully claim to be the Entertainer No 1 in a world where success is more of an aberration in the general scheme of failure. The Govinda juggernaut has rolled on, churning out one successful movie after the other.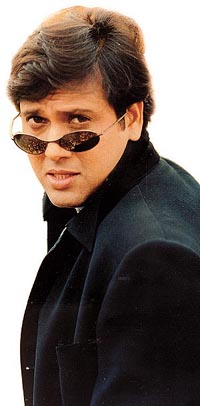 He has managed this at the cost of being labelled the most repetitive man in the industry, sticking to the same directors, similar themes and almost identical roles. Hero No 1, Coolie No 1, and Aunty No 1 are films so uncanny in their resemblance that even the titles sound the same. But the public simply does not seem to get enough of Govinda. Cinegoers still flock to his new releases. Is his success an extended fluke or was he born under the lucky star with forces of nature permanently on his side? A closer look provides us with some logical explanations to the Govinda phenomenon.
Govinda's voyage of success has its spots of failures, whence his movies have flopped miserably at the box-office. His career is an example of knowing one's strengths and exploiting them to the maximum . He has learnt from his mistakes and after trying out his skills in all type of formula movies, has been smart enough to stick to his forte — dancing and comedy. He has chosen directors, movies and roles strictly in accordance with his innate strengths. Being cast in a straitjacket seems to have a positive connotation for Govinda.