No child's play this
At the outset this is not your run-of-the-mill serial. Thodi Si Bewafai Tuesdays 9 p.m. on Sony is at once bold and sensitive.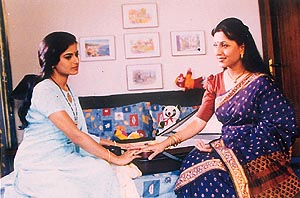 The plot revolves around Neha and her gynaecologist husband Vikram and his parents. A close knit family who believe nothing can go wrong. Till the day Neha discovers she can't have a child. The irony is that being a gynaecologist, Vikram can do nothing.
It is for the first time that they see a strain in their beautiful relationship. Adding to the trauma is the parents' overwhelming desire for an heir.
That's when the husband makes a proposal to his wife....And from then on things are never the same again between Vikram and Neha. Find out how circumstances change the tender romance to a harsh, hard-hitting reality that both of them have to face.
Yet another musical album
That TV soaps are becoming clones of Bollywood films is evident from the fact that many leading ones are coming out with their own music albums. First it was Amanat. Now Noorjahan has followed suit with ghazals and Sufi songs.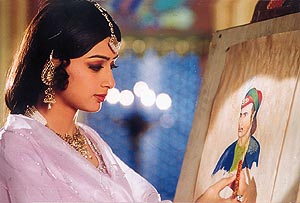 Based on the life and times of the only ruling Mughal Empress, the album blends musical styles of the Middle East and the Indian subcontinent. It has music by Talat Aziz and songs by Sonu Nigam, Jaspinder Narula, Sadhana Sargam and a Sufi song by Aziz.
Traditional instruments like the rabab, onth and dirbeki drums lend an authentic flavour to Muslim compositions and the pakhwaj and tabla have been used for Indian songs.
A video too is being shot on the title song. And the makers of the historical serial say more albums are on way. So, if you don't want to see Noorjahan, now you can simply listen to it!
Caste wars
Hindu-Christian relations get a humorous twist in this serial engagigly titled, Life Nahin Hai Ladoo. This is the story of three generations and two households, one a Hindu traditional family and the other a Christian family.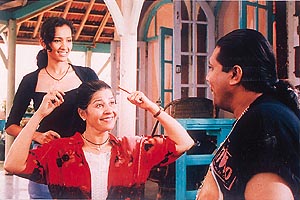 The main protagonist, Janki Prasad alias Ladoo is a part of the Hindu family who lives with his archiach grandfather. Diana's Christian family is lorded over by her dour grandmother.
Both the elder citizens nurse a strong dislike for each other and forbid the kids from interacting. The youngsters work out a plan leading to a turning point in the lives of the oldies. There is such a change in their mindset they fall in love with each other.
What follows are hilarious moments where social barriers and obstacles come crashing down. And it is this humour which saves Life Nahin Hai Ladoo May 18, 9.30 p.m. on Star Plus, from becoming a tired tale of inter-caste harmony.
Wild times
Without a watch, how are bees able to return to the same honey pot every day at the same time? Do animals, like humans, get jet lag if they cross the Atlantic Ocean in a plane?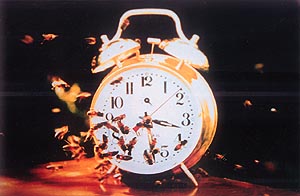 We have all witnessed most animals' ability to appear to live by a schedule — but are they actually "telling time" or are they just driven by instinct? Animals Planet has an explanation to these phenomena on How Animals Tell Time May 29 at 10 p.m.
Timing is life and death in the animal kingdom. If the female polar bear comes out of hibernation too early her cubs will not survive the cold. If she wakes up too late, they will starve.
Featuring cutting-edge graphics and stunning location footage, viewers explore the time cycles of animals ranging from lions to humming birds and farmyard animals to giant Pacific turtles.
— Mukesh Khosla