IN PASSING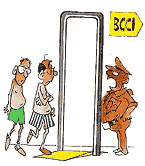 Hidden cameras not allowed!
By Sandeep Joshi
Minister's brother stripped
JALANDHAR, May 30 — A brother of Punjab Cabinet Minister Ajit Singh Kohar was allegedly beaten up and stripped naked by policemen in Shahkot police station after being detained on Sunday on charges of damaging a motor on panchayat-owned land in Talwandi-Butiyan village near here.
Property of cricketers: notice to IT Dept
CHANDIGARH, May 30 — Taking suo motu notice of news items quoting the Additional Commissioner of Income Tax, Mr Vishwa Bandhu Gupta, as saying that "somebody should be prepared to act" against cricketers involved in match-fixing, Mr. Justice Mehtab Singh Gill of the Punjab and Haryana High Court today issued notices to the Union of India and the Chief Commissioner of Income Tax.
127 killed in Lanka
COLOMBO, May 30 — At least 120 Tamil rebels and seven soldiers were killed in a massive offensive by the army against the Tigers in Northern Jaffna as the Sri Lankan Government today asserted that its troops have halted the LTTE's march to the embattled peninsula.
Primary education panchayats' baby
KARNAL, May 30 — The Haryana Government at a high level committee meeting at Chandigarh yesterday finalised the parameters of the new education policy in the state. In a momentous decision, the committee decided to handover the control of primary education to panchayats in the state.
EARLIER STORIES
(links open in a new window)
Military takes over in Fiji
May 30, 2000
Gunshots near Mara's house
May 29, 2000
Prabhakar produces videotape as 'evidence'
May 28, 2000
15 ultras die in two operations
May 27, 2000
Speight rejects chiefs' plan
May 26, 2000
India, USA oppose Tamil state
May 25, 2000
India ready to evacuate Lankan troops
May 24, 2000
10 more companies for Tripura
May 23, 2000
NLFT on killing spree, toll 45
May 22, 2000
Cut subsidies, PM tells states
May 21, 2000
Fiji PM, Cabinet taken hostage
May 20, 2000