Thursday, June 1, 2000,
Chandigarh, India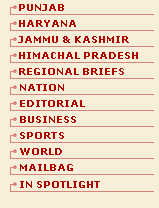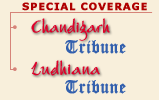 M A I N N E W S
Students stone shops, vehicles
Tribune News Service
SHIMLA, May 31 — Tension gripped the Boileauganj area of the city as students of Himachal Pradesh University (HPU) went on a rampage in the main bazaar, damaging about a dozen vehicles and shops, last night.
While a liquor shop was extensively damaged and looted, the irate mob smashed the window panes of a health centre, post office and some shops. The vehicles parked in front of the local police station, including three fire engines, were also damaged by students who were allegedly armed with swords, iron rods and other sharp-edged weapons.
The local shopkeepers observed a complete bandh and blocked vehicular traffic on the Shimla-Kalka national highway for about two hours in protest against the failure of the police to arrest the miscreants.
The trouble started around 10 p.m. when some students of the university, who had earlier bought two bottles of liquor, started demanding more free of cost. The salesman, however, refused to oblige them, saying that he was not the owner of the shop and only an employee. However, they refused listen to any argument and persisted with their demand. At this stage, two local youths, who were passing by, intervened and urged the students not to insist on free liquor. This led to an altercation between the youths and the students and they ransacked alleged that they took away at least four cartons of bottles.
In the meantime, more students arrived from hostels and pelting stones and bottles, the mob moved towards the police station, where they smashed all window panes of all vehicles parked in front of it. The half a dozen policemen in the thana became helpless spectators as by that time the number of students had surged to over 200.
Mr P.C. Katoch, Deputy Commissioner, the Superintendent of Police, Mr A.N. Sharma, along with other officers arrived at the scene with reinforcements around midnight to control the situation. The police detained as many as 143 students for two hours and they were released on personal bond. A case under various Sections of the I.P.C. against the students for causing damage to public properties and rioting was registered.
The local Beopar Mandal was, however, critical of the police, which released the students under pressure. Mr Rakesh Jain, president of the Beopar Mandal, and Mr Inder Dut, the local Municipal Commissioner, alleged that the students were released even though the offences were non-bailable. They said that it was not for the first time that the students had indulged in violence right under the nose of the police.
The shopkeepers observed a bandh and blocked traffic to press their demand for immediate arrest of the accused. They also alleged that the police canecharged them to forcibly remove the blockade.
The Superintendent of Police, however, denied that force was used to disperse the protesters. He said efforts were on to nab the suspects.