IN PASSING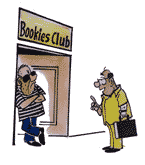 We need somebody rich and famous like you for our next ad campaign.
By Sandeep Joshi
Police ends hostage drama
WASSERBILLIG (LUXEMBOURG), June 1 — The police launched an assault today to free 28 hostages, including 25 children, held by a lone gunman in a daycentre in Luxembourg, the police said.
Release of Romesh Sharma ordered
NEW DELHI, June 1 — Romesh Sharma, alleged frontman of Dubai-based underworld don Dawood Ibrahim, was today ordered to be released unconditionally by a Delhi court in a CBI case relating to fraudulent procurement of passport for Dawood's mother to help her flee the country soon after the 1993 Mumbai bomb blasts.
Anandgarh petition
4 IAS officers named
CHANDIGARH, June 1 — If one is to believe the list before the Punjab and Haryana High Court of bureaucrats and politicians, who purchased land in villages "covered" under the "first" and "second" phase of Anandgarh scheme, hundreds of acres of land has been purchased by IAS and IPS officers, besides former ministers and MLAs.
EARLIER STORIES
(links open in a new window)
Speight supporters go on rampage
June 1, 2000
Nailatikau named Fiji PM
May 31, 2000
Military takes over in Fiji
May 30, 2000
Gunshots near Mara's house
May 29, 2000
Prabhakar produces videotape as 'evidence'
May 28, 2000
15 ultras die in two operations
May 27, 2000
Speight rejects chiefs' plan
May 26, 2000
India, USA oppose Tamil state
May 25, 2000
India ready to evacuate Lankan troops
May 24, 2000
10 more companies for Tripura
May 23, 2000
NLFT on killing spree, toll 45
May 22, 2000
Cut subsidies, PM tells states
May 21, 2000