Saturday, June 3, 2000,
Chandigarh, India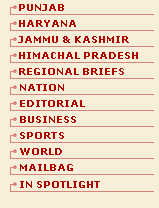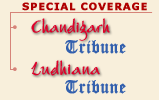 M A I N N E W S
11 killed in J&K blast
Tribune News Service & agencies
SRINAGAR, June 2 ó At least 11 persons were killed and 24 were injured in a powerful explosion near Pattan, in Baramula district, about 25 km north of here this afternoon. Those injured included a former Housing and Urban Development Minister, Moulvi Iftikhar Hussain Ansari, a prominent Shia leader, who was addressing a gathering of Shiite Muslims this afternoon.
The police said a landmine explosion took place when Moulvi Ansari was addressing the gathering at Gunde Qasim in the Pattan area of Baramula district. At least eight persons, including Sub-inspector Bashir Ahmed Gazi, were killed on the spot, while three others died while being shifted to a hospital. Those injured were admitted to various hospitals here. The Pattan MLA and former Minister in the Farooq Abdullah Cabinet, Moulvi Ansari (Congress) also is being treated at the Sher-e-Kashmir Institute of Medical Sciences Soura here. His condition is out of danger. The condition of at least six persons is stated to be critical. The police said a landmine had been fitted under the dais and detonated by suspected militants when the Shia leader was addressing the gathering.
This is for the first time that a landmine explosion took place at any such gathering since the eruption of militancy in the valley. The militants have stepped up their attacks on the security forces and the senior political leaders over the past two months. Minister of State for Power, Ghulam Hassan Bhat died, along with four others in a powerful landmine explosion which blew up his bullet-proof car near his home village near Qazigund, Anantnag district, on May 15. He was the first minister to be victim of the militantsí attack. The suspected militants killed another MLA, Abdul Ahad Kar in May last year, in Kupwara district.
Immediately after the blast, Shia youths took to the streets in downtown Srinagar pelting stones at vehicles to protest the attempt on Ansariís life. They also forced shopkeepers to down shutters.
No militant outfit has claimed responsibility for the blast.
As tension gripped Gund-e-Qasim, senior police officials, including Inspector-General of Police Ashok Bhan rushed to the spot and were constantly monitoring the situation.
Security has been beefed up in Shia-dominated areas in the state.