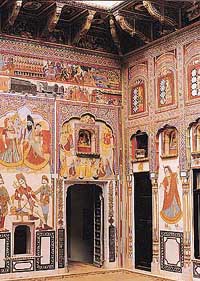 While founding Nawalgarh, Thakur Nawal Singh first laid the foundation of a fort. It is said that a Thakur, also known as the Thikaneydar, i.e. the estate holder, must have a fort., so a fort, named Bala Qila, was made on high sand dunes. Fortunately, the well which was dug near the fort yielded abundant sweet potable water. The Thakur also built the Gopinath temple, a large and magnificent building which stands in the middle of the town to this day. When he came to live in the fort, the Thakur was wise enough to invite traders from Jaipur to settle in the new town and set up shops.

Soon, many traditional trading families of Goyankas, Pataudias, Chokanis, Aggarwals, Maheshwaris and Ladias settled here. Land was allotted free of cost for residential as well as other purposes. Other towns in the Shekhawati area were also built on similar lines. From early times, caravan trade passed through Shekhawati. From Kachch and Bhuj in Saurashtra and Jodhpur, the caravans used to go up to Delhi and beyond to the towns of Doaba in Uttar Pradesh, and sometimes they even went all the way to Bihar and Bengal. The trade carried on for centuries on camel back and bullock carts. In the times of the later Mughals, when the mighty empire was breaking up and Shekhawat Sirdars had already carved an exclusive territory for themselves, bandits on horseback emerged as a major nuisance to caravan trade in Rajputana. Thakurs used to levy a reasonable tax on passing caravans. Initially the Thakurs provided protection to the traders and later on the British resident at Jaipur also deployed trained cavalrymen for their safety.

Dozens of trading families who settled in Nawalgarh prospered and gave the town nearly a thousand beautiful havelis, dozens of large masonry-lined tanks, massive wells and many memorial chhatris, all adorned with beautiful frescoes. The town grew around the Bala Qila. Caravan trade went on safely for a century. Even 263 years after it was founded, the town has hardly lost its traditional character and glory. The grandeur and style of its large mansions built according to ancient art of Vaastu are still in good shape. Numerous masons, locally called chejaras of khatis, along with hordes of artisans arrived here initially from Jaipur but later from other villages in the vicinity of the Kachhwaha capital. Many artisan and mason families preferred to permanently settle here since there was regular work at Nawalgarh. For 100 years, trading families continued building mansions.

With the introduction of railways in the Shekhawati region, the caravan trade gradually declined. As new opportunities became available at Calcutta, Madras and Bombay, several traders shifted and established their businesses there. The people of the trading community were called Marwaris in the new cities by the local people. The Britishers remained liberal towards their operations since they served as conduits in procuring raw material from the countryside, and also in channelising British merchandise into the vast local market. Earlier, the East India Company and, later, the British Indian Government recognised their usefulness and even bestowed honourary titles of Rai Bahadur and Magistrates on several of them with light judicial powers.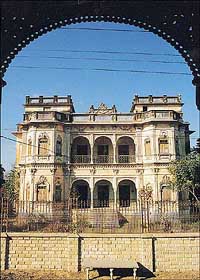 Out of this trade carried on for centuries emerged a class of prosperous Marwari seths, many of whom have earned name and fame throughout India. The Birlas (Maheshwari clan), the Goenkas, the Kedias, the Khaitans, the Nemanis, Somanis, Ganeriwalas, Murarkas, Poddars and many more like Ramagharias and Nawalgharias have earned a fortune from trade. The wealth generated by these traders paved the way for construction of thousands of beautiful mansions in several towns and villages spread across Shekhawati.
In the wake of the exodus from Shekhawati to other cities in India, the castle-like mansions of Shekhawati towns and villages were vacated and left at the mercy of caretakers. Either family purohits of trading houses or trustworthy Shekhawat Rajputs were asked to look after these properties. Things kept on dragging for several generations till the 1970s whereafter the painted havelis of Shekhawati were rediscovered by some foreign travellers like Illay Copper (1975-79 AD). By the time this treasure in traditional architecture and post-medieval phenomenon of wall paintings was rediscovered, much of the magnificence has suffered loss due to many decades of neglect. In spite of sporadic restoration efforts, done indiscriminately and unscientifically on a few havelis in Nawalgarh and Churu, the old and original grandeur could not be achieved. The earlier genre of master masons and master painters/artisans had vanished from the scene as early as 1930s.
In Nawalgarh town one sees two distinct styles of traditional architecture: the purely Indian style and partly Indian and partly European style features on later havelis. All earlier havelis situated mostly to the north of east-west axis of the town were constructed in the traditional style whose main features are high outer walls up to the roof often extending up to the upper storey; one or two central courtyards, occasionally the number increased to four and even eight, an adjoining nauhara and arched gate structures with heavy and intricately carved wooden doors.
There were narrow winding staircases accessible from the inner courtyards and a naal, i,e, a covered tube-like alley used to connect the haveli with the Nauhara, in these mansions. There was always an outer and then inner courtyard (s). The height of the platform on which the haveli was raised varied from 3 to 5 feet. A spacious chabootara in front of the entire width of a traditional haveli was considered auspicious. The upper brackets under the eaves, arches above the vaults and somewhere projected balcony forms were liberally used by architect-masons.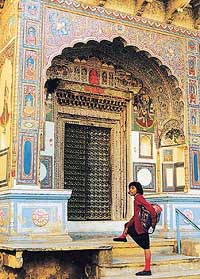 The havelis were invariably and extensively painted. Unpainted havelis were considered inauspicious by standards of those times. The outer as well as inner walls of the havelis, sometimes even the vaulted roofs, contained hundreds of beautiful images, sometimes in a myriad sequence, based on old Hindu mythological themes and scriptures. In spite of the fact that the painters and masons were illiterate, they worked hard on hundreds of havelis and exhibited a sort of ingenuity as no two buildings seem similar to each other either in design or art work.
Their intellectual inputs came from oral traditions. Though the subjects and themes were common, yet the painters and masons were masterminds in putting minor variations either in the size of the drawing or in the scheme of colours which could hardly be detected by a casual observer.
The earlier masons and painters worked in close coordination. The earlier havelis were built partially in stone and partially in lakhauri bricks, made locally. The bricks and stone-chips were fixed in burnt lime and plastered with this mortar dexterously prepared by mixing and beating jute fibre, bilva fruit pulp, urad dal, jaggery, guargum or accacia gum, with lime as the base material. The experience of centuries behind them determined the proportion in which such material could be prepared. It was mixed and ground in a circular trench by continuously pouring water on it while a pair of bullock or a camel would drudgery pull a roller over it. Once the primary coat of plaster on a wall was done, the masons next ordered preparation of yet another kind of a paste for the second fine coating on the wall. This substance for the second coat was prepared by sieving water- soluble lime which for several hours was ground with powdered sea shells until an offwhite and extremely fine paste was ready. The masons used this paste to give a glittering offwhite thin coat of plaster upon the wet wall. Only that much surface was prepared in rectangular blocks in a day as the artisans could use for scratch drawings and fixing colours in the outline for frescoes. True frescoes could not always be created. On most Nawalgarh havelis I could not find wall paintings done in tempera style i.e. paintings created on wet or dry wall surfaces. It is amazing that these tempera paintings have somehow survived the vagaries of time, though most on the outer walls have faded and some cannot even be recognised.
Despite steady progress, Nawalgarh must have remained a sleepy village until 50 years ago. Now with the local population above 40,000, a crowded bazaar and an influx of a large number of foreign as well as Indian tourists, the townspeople have started thriving on income generated from tourists who visit to appreciate the value of their artful heritage. Several small and medium size hotels with a couple of heritage hotels have been set up at Nawalgarh to comfortably accommodate tourists. Foreign tourists generally prefer coming here in the winter.
In spite of the grandeur of the old town, most havelis have not been looked after properly. Some are in a state of utter neglect and have been abandoned. A lack of interest in scientifically preserving the architectural heritage, haphazard construction and encroachments around havelis, temple and ancient masonry wells combined with alternations and misuse of the premises other than for residence, have marred the usual traditional character of streets and many a magnificent structures.