This one's not fixed!
For all of you stumped by the dirty goings-on in cricket, here's a show to cheer you up. Tune into Star Sports for a new quiz show Stumped! Thursday at 10.00 p.m. Hosted by Harsha Bhogle, it's a India Vs Australia 'World Cup Special.'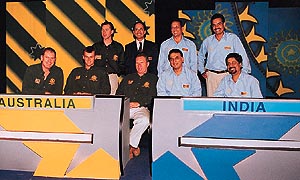 Representing Australia are players like Alan Border, Tom Moody, Adam Gilchrist and Ricky Ponting. From the Indian side there are Sunil Gavaskar, Dilip Vengsarkar, Kris Srikkanth and Mohinder Amarnath. Not so curiously, Kapil Dev is missing from the squad.
There are little anecdotes and insights the players have to offer on incidents referred to in the course of the programme. The quiz is contested over six separate rounds with each round specifically designed to add variety to the show.
Find out who finally wins the quiz. For, this one's a close contest. Not a pre-determined affair!
Bobby does it again
He finds Delhi intriguing and somewhat manipulative which is why, he says "it has been attracting so many power-hungry people."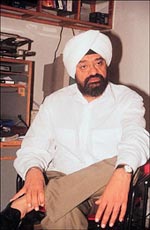 And it is this lust for power which Bobby Bedi, the producer of Bandit Queen, is portraying in his serial Rajdhani on Star TV.
Despite being better known as a film-maker, Bedi is no stranger to TV. In 1980 he made a telefilm for DD which was directed by Pradeep Kishan, husband of celebrated novelist Arundhati Roy.
Word has it that Arundhati is looking for a producer for God of Small Things. Could the choice fall on him? "I don't think so," says Bedi. "She spearheaded the attack on Bandit Queen".
But he does have another film project on hand which he refuses to speak about it. "The Bandit Queen fracas has made me wiser. If your project is controversial and you speak about it then hassle ho jata hai. Controversy should follow not precede." Case of once bitten twice shy?
Exit Sonu
So there's finally going to be a change of guard at Zee's popular Sa Re Ga. For some months now speculations had been rife about the imminent replacement of host Sonu Nigam.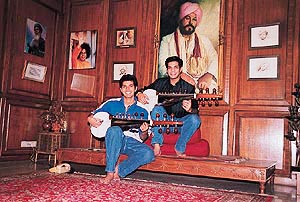 Most observers say that Nigam had been doing a reasonably good job of the show. He had eminent people like Jagjit Singh, Naushad Ali, O.P. Nayyar and Hari Prasad Chaurasia as judges. His selection of participants was unfailing.
The two young boys, Amaan and Ayaan Ali who are replacing hin have little TV experience. Though being sons of Ustad Amjad Ali Khan gives them an impeccable musical pedigree, yet that's hardly a qualification for hosting Sa Re Ga.
So what made them such a hot choice? A Zee insider says it is perhaps something to do with the great demand for Sonu as a singer in Bollywood. It is no secret his popularity is surging and he has signed a slew of films besides cutting his own albums.
Director of the show Gajendera Singh, has said, "Every director needs a certain comfort level with the people he is directing." Which he was obviously not getting while directing Sonu. Which perhaps explains why the replacement became imminent.
Empire of the rats
In the 18th century, trading ships from Asia and Europe arrived in England carrying spices, teas and some unidentified cargo as stowaways. No, not the human kind — they were rat. Brown rats.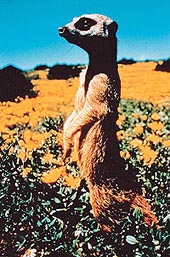 The brown rat is more aggressive and larger than the plague-carrying black rat and one of the most successful revolutionary creatures on earth. Within 20 years, the brown rat spread in the country and virtually drove the black rat out of England.
Beginning June 10 at 11 p.m., Animal Planet takes viewers face-to-face with rats, kingfishers, meerkats and macaques in Animals A-Z. From the icepack of the Arctic to steamy tropical jungles, it takes an in-depth look at creatures that inhabit planet earth.
This series studies animals usually not subject of much attention. It explores the dynamics within the animal culture that is often overlooked by people. So, if you have the stomach to peek into the world of such creatures, go right ahead.
— Mukesh Khosla