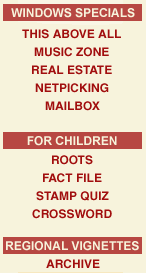 William Faulkner
By Illa Vij
WILLIAM Faulkner, when awarded the Nobel Prize for Literature in 1950, was declared the unrivalled master of all living British and American novelists. At the ceremony Faulkner said: "I believe man will not merely endure, he will prevail. He is immortal, not because he, alone among creatures, has an inexhaustible voice, but because he has a soul, a spirit, capable of compassion and sacrifice and endurance. The poet's, the writer's duty is to write about these things. It is his privilege to help man endure by lifting his heart, by reminding him of courage and honour and hope and pride and compassion and pity. The poet's voice need not merely be the record of man; it can be one of the props to help him endure and prevail." After the Nobel Prize, he won two Pulitzer Prizes. He got one for A Fable and the other the The Reivers (posthumously) which was his last book and has been translated into 32 languages.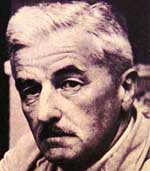 William Cuthbert Faulkner was born on September 25, 1897, in New Albany, Mississippi. His father was a conductor on a shortline railway owned by his grand-father. Even as a young child William exhibited extraordinary traits. He wrote, drew, read, played baseball and football — and all that he did, he did it intensely and usually kept silently to himself. At 19, he began writing poetry as a clerk and also worked in his grandfather's bank. He strongly disliked the job and in 1918 he enlisted in the RAF, Canada. But before he could receive his flight training, the war ended.
In 1919, one of Faulkner's poems, was bought by a magazine The New Republic. He never finished High School, tried studying a little at the University of Mississippi and after a restless period, in 1921, he went to New York. Later he worked as a postmaster at the Oxford University. He was known to be careless with the mail, he played golf during office hours and one day when a bridge game was interrupted by a postal inspection he resigned from his post. He was determined not to be at the beck and call of anybody. He began writing seriously, he was a different man altogether and difficult to understand.
He had a small built, walked with an air of dignity, rode horses recklessly, was always arrogant yet courteous. In his younger days when he worked as a book salesman, he did not hesitate to embarrass customers who picked up books he thought to be worthless. He would say: "Don't read that trash, read this." From 1926 to 1931, he published six novels. Once money began coming in he bought a rundown house. While writing the novel Mosquitoes he wanted to experience a voyage on a typical shrimp — boat. He sailed for four or five days and when they returned, the captain came back disgusted. He was upset because William would sit motionless for hours without saying a word or lie up at the bow, staring into the water endlessly. When more money flowed in he bought a Waco biplane. His recklessness often lead to him having narrow escapes.
Once he landed upside down and he got away with just a few scratches on the head and arms! In 1929, he married Estelle Oldham Franklin. Their first child, born premature, died because there was no incubator in Oxford. Soon after, he bought an incubator for the hospital, hoping that no child would die due to lack of one.
His 19th novel, Intruder in the Dust, was sold to the films for $ 50,000. In 1950, he was awarded the Nobel Prize for Literature. He did not look for public appreciation. He avoided guests and did not want to talk about his writings or his success. He wrote about 18 novels, 90 short stories, 50 poems and one play. In 1962, President Kennedy invited him to the White House for dinner, and he declined the invitation saying that he was too old to travel that far to eat with a stranger. Even at the age of 61, Faulkner continued riding. He had a fall in Virginia, then another at the age of 64 years and yet another when he was almost 65. He limped home, painfully remounted the horse and took it over the paddock jumps. After about two weeks of increasing pain and drinking he was taken to a sanatorium where he died (1962). Some of William Faulkner's works:
The Sound and the Fury.
As I Lay Dying
Requiem for a Man
A Fable
The Reivers
Go Down, Moses
The Collected Stories of William Faulkner
The Uncollected Stories of William Faulkner. (Published after his death.)