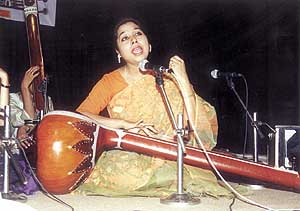 Afroza Begum Yasmin is keeping the tradition of three gharanas alive. First, of her father's Patiala Gharana under late Ustad Mumtaz-u-din Ahmad, Kirana Gharana under Pt. Alok Chatterjee of Calcutta and Rampur Sihaswan Gharana under Ustad Hafiz Ahmad Khan. All of them are vocalists. She trained under the late Ustad Mumtaz-u-din Ahmad for a long time but had been under the watchful eyes of her father right from at the age of three. During her childhood, her father and his colleagues had spotted a talent for singing in her. "It was father who wanted me to continue the family tradition, in addition to my job in Dhaka University as a lecturer in the Department of Sociology. His wish was to see me as a professional Hindustani classical singer and I fulfilled his dream", Yasmin says. She was not in touch with her father for the last five years, till he died last year. While doing her Ph.D on "Changing Position of Women in Bangladesh", at JNU, her work did not deter her from performing at concerts in different places in India. She, along with five of her other sisters, is recognised as an excellent singer on Bangladesh radio and television. "It was, in fact, my music that inspired me to visit India to do my Ph.D on a sociological subject," she says. Music is not her hobby but her passion. "For the sake of music I can abandon all other activities", she says.
The topic of her postdoctorate degree is itself very interesting. According to her, the gharana concept which originated in a feudal structure is being preserved by democratic institutions. She believes that the gharana tradition is in no danger of dying in India. Earlier, classical music was confined to the aristocracy and only privileged people had access to the gharanas. But this has now changed. At present, the impact of democracy has opened the doors of gharanas to the masses. She believes that political patronage has always been necessary to promote a singer. But the patronage should be from the state and not from particular political organisations , otherwise he or she would be treated as a branded singer, she observes. For a Bangla woman ,music is a ornament but for Afroza it is worship. She observes that Bangladeshi women are as liberal as Indian women are but they are caste - bound. But Pakistani women are equally retrogressive, they are under the influence of Islam, she says.
While comparing Hindustani classical music with Bangladeshi music, she puts it at two different poles. Both Bangladeshi and Indian classical music are based on ragas. Though Bangladeshi music has yhe elements of Indian classical music and is based on rhythm and taal but its temperament is different. In Bangla one can make so many ragas at a time , but in Hindustani classical music one has to keep its purity in mind . Gayaki ang has changed in Hindustani classical music. Indian classical music is soothing and this fact has been acknowledged even in the West. More and more people from western countries are being attracted towards Indian classical music. On the other hand , the young generation is being attracted by western pop music as well. But it will have a short life, she claims.
No doubt, classical music has a limited audience as only the elite have the knowledge of it. To promote it , government should encourage young artists along with established artists so that the middle class is given a chance to learn and listen to it. It has been noticed that middle class families are becoming interested in listening and learning classical music. Until recently a gharana only patronised its own family members. But with the passage of time, the trend has changed and people from outside are becoming the disciples of gharanas, she claims.
There is little scope for classical music in Bangladesh because good musicians settled in Calcutta and other parts of India after Partition. And those left in Bangaladesh could not keep it up for their survival. The classical music still runs in the veins of Bangladeshis and that tempts them to visit India to learn music. "Either they come of their own or are sponsored ,but no initiative is taken by the government'', she says with disgust . After 1947 Bangaladesh could not preserve classical music due to political turmoil and people had to suffer for 15 years under military rule. But things are now changing fast, she hopes. There is no dearth of learners or listeners in Bangladesh. A large number of institutions have come up to coach youngsters. But to really learn classical music one has to adopt age-old guru shishya tradition, she suggests .